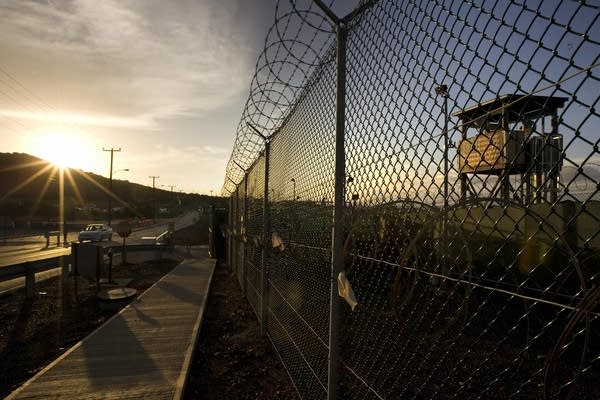 Rising desperation and a massive hunger strike among detainees at Guantanamo Bay, Cuba, have led the chair of the Senate Intelligence Committee, Sen. Dianne Feinstein, D-Calif., to call for many of the detainees to be transferred to Yemen.
The New York Times reports that "Of the 166 wartime detainees who remain at Guantanamo, 86 were approved for transfer more than three years ago, but remain in Cuba."
Shortly after his first inauguration, President Barack Obama signed an executive order requiring that the prison be closed within a year. Over four years later, it remains open.
Part of the problem is a lack of alternatives to the detention center. In December 2009, Obama asked for the establishment of a federal prison in the United States to take the prisoners. Congress responded by approving legislation that would prohibit such a move.
Karen Greenberg, author of "The Least Worst Place: Guantanamo's First 100 Days," and Ken Gude, chief of staff and vice president at the Center for American Progress, join The Daily Circuit to discuss what would happen if the prison at Guantanamo Bay closed.
LEARN MORE ABOUT GUANTANAMO BAY:
•Obama's Failed Promise to Close Gitmo: A Timeline
The Atlantic lays out the moves Obama and others have made regarding the prison.
•Obama Promised (Again) That He'd Close Gitmo. So Can He?
"'I think we're going to have to ask ourselves in 2015-2016 if this is something we still want in 2050. And it's going to seem ridiculous,' Gude says. 'Hopefully the American public will see that moving prisoners to the US is a necessary step if we want to move on.'" (Mother Jones)
•Guantanamo Bay Still Unresolved
Greenberg discusses closing the prison on NPR's Tell Me More.
•INSIDE GITMO: An Exclusive Tour Of The Most Notorious Prison On Earth
Business Insider takes readers inside Guantanamo Bay with a photo slideshow.