The light in the Hillstrom Museum gleans off the cobalt blues and shimmering golds of the plates, bowls and medicinal jars on display.
This is Maiolica. The term refers to the tin glaze ceramists used to decorate the earthenware. Experts say the colors are just as brilliant today as when they were fired in 1500. Yet what really interests maiolica fans are the images.
Hillstrom Museum Director Don Myers is like a kid in Renaissance candy store.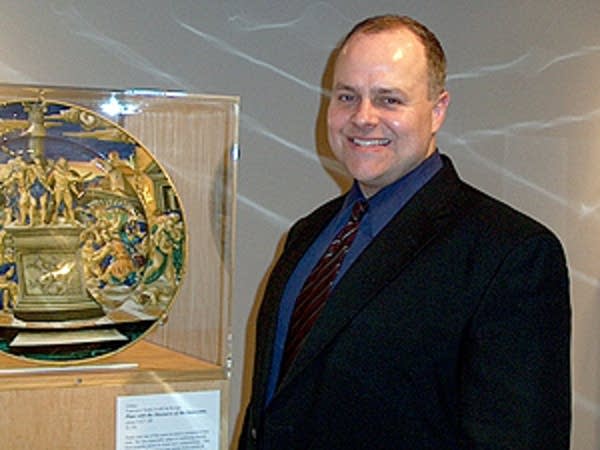 "If you love Italian Renaissance painting, you've got to love Maiolica," he says.
He points out Cleopatra contemplating the asp. Nearby there's Judith slaying Holofernes in a sea of blue.
There are some that are more openly erotic, including a woman holding a bright yellow bird just beneath her naked breast. The bird was a symbol for male potency.
Gustavus music professor Ann Pesavento says she's struck by the liveliness of the scenes. Admittedly they are a bit garish. She says it's a product of its time.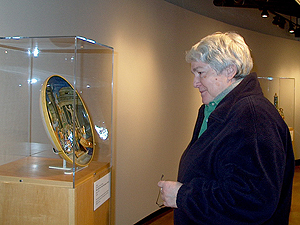 "You know it's Renaissance," she says. "When we teach music appreciation classes and you talk about baroque music, you talk about filling the space with activity. And this almost looks that way, doesn't it? I mean almost out to the rim of this plate. Top, bottom, step into it, details!"
Maiolica was made by artisans working in small Italian hill towns. These were popular spots for the art because potters could easily collect river clay.
Catherine Hess is the Associate Curator of Sculpture and Decorative Arts at the J. Paul Getty Museum in Los Angeles. She says Maiolica's technique was likely brought to Italy from North Africa.
"It started from the desire to recreate porcelain, at least in part, and then it became a full-blown pictorial medium unto itself," she says.
Hess says these pieces were made for the wealthy and elite. She says people enjoyed displaying their knowledge of literature and culture. They also liked references to their own time. Hess describes one plate with elaborate classical designs along its rim. But in the center there's a donkey biting a wolf.
"With an inscription that says 'Look at what the world has become when the donkey eats the wolf.'" she explains. "That's a reference, probably a reference to a topsy turvy political situation. It might have had something to do with an uprising of a lower social class."
Another plate shows the "The Massacre of the Innocents," a depiction of the New Testament story of Herod ordering the slaughter of all children.
It's a plate from Urbino, a hillside town in central Italy, and the original home of Renaissance painter Raphael.
Museum director Don Myers says that particular plate was likely painted by Francesco Xanto Avelli de Rovigo. He says Xanto, like other maiolica painters, copied work from artists like Raphael.
Myers says the Maiolica glaze was a challenging medium. As a painter applied the pigments to the very absorbent clay he had to to guess how the image would turn out. Myers says that makes the fluidity of Xanto's figures all the more remarkable.
"The paint is sucked in very quickly, and so you have no fudge room at all," he says. "It'd be almost like trying to do this all with magic markers on a piece of paper. And the other complicating factor is that the colors don't look like this before their fired, they're grays and beiges."
Myers says scholars are still trying to determine whether the plates were actually used for eating. Maiolica jars were often used in apothecaries for medicines.
As with many things, Maiolica was a victim of technology. It fell out of fashion when the Italians learned how to make porcelain. However, it is a reminder of a brilliantly colored moment in time.