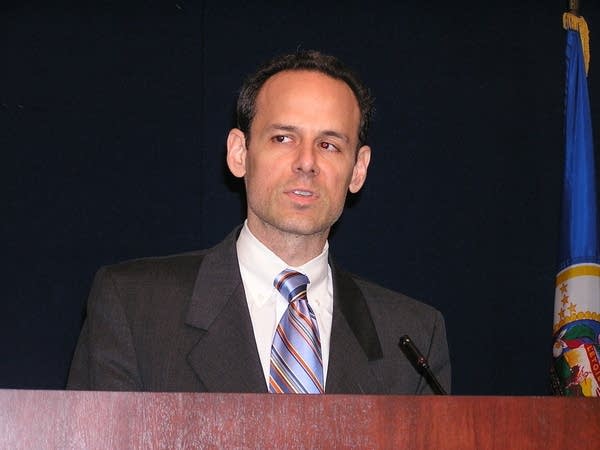 (AP) - The Republican candidate for Congress in the 5th Congressional District was charged with domestic violence in 1995 for allegedly assaulting his wife, and he later had his record expunged.
Candidate Alan Fine reacted angrily Saturday to a Star Tribune report about the arrest record, saying he never struck Rebecca Wexler, from whom he is now divorced. He said he had his record expunged in 2004 because he was innocent.
"My personal life is not a campaign issue," Fine told The Associated Press on Saturday.
He issued a press release demanding that the Star Tribune retract the story and saying it contained "a vast number of inaccuracies," but did not specify what they were. He also said the article was misleading.
My personal life is not a campaign issue.

Republican Congressional candidate Alan Fine
"The article is an accurate and straightforward account of events that appear to have a bearing on this campaign," Star Tribune editor Anders Gyllenhaal said in a statement Saturday. He said the story was published as quickly as possible after the newspaper obtained the records and spoke to everyone involved in the case.
Wexler dropped the 1995 abuse charges soon after Fine's arrest, but on Thursday told the Star Tribune that she only agreed to because Fine pressured her to do so and promised to work out their problems in marriage counseling. The couple divorced the following year.
Fine contested Wexler's version of events, saying he didn't speak to her for quite some time after the initial accusation was made. Fine also pointed out that he now has custody of the couple's 12-year-old son.
In an interview with the newspaper and in court documents, Fine accused Wexler and her father, Hennepin County Judge Thomas Wexler, of conspiring in 1995 to stage a domestic incident and get him arrested for assault in order to make him look bad before he filed for divorce. But he said he has no proof of that charge.
Judge Wexler, who's been on the court bench for 16 years, said that's untrue.
In the 5th Congressional District race, Fine is facing Democrat Keith Ellison and Independence Party candidate Tammy Lee. In the last month, Fine has criticized Ellison as unfit for office because of Ellison's past associations with the Nation of Islam and its controversial leader, Louis Farrakhan.
Fine rejected the idea that his own criticisms of Ellison's character made him more vulnerable to concerns about his own fitness for the office.
"What I raised about Ellison were true concerns," Fine said. "What the Star Tribune raised is a misrepresentation of events."
Gyllenhaal said the newspaper's reporting on Fine and other candidates in the race has been published with the goal of informing the public.
"All the stories have stood up to criticism from candidates, and this one does as well," he said.
(Copyright 2006 by The Associated Press. All Rights Reserved.)