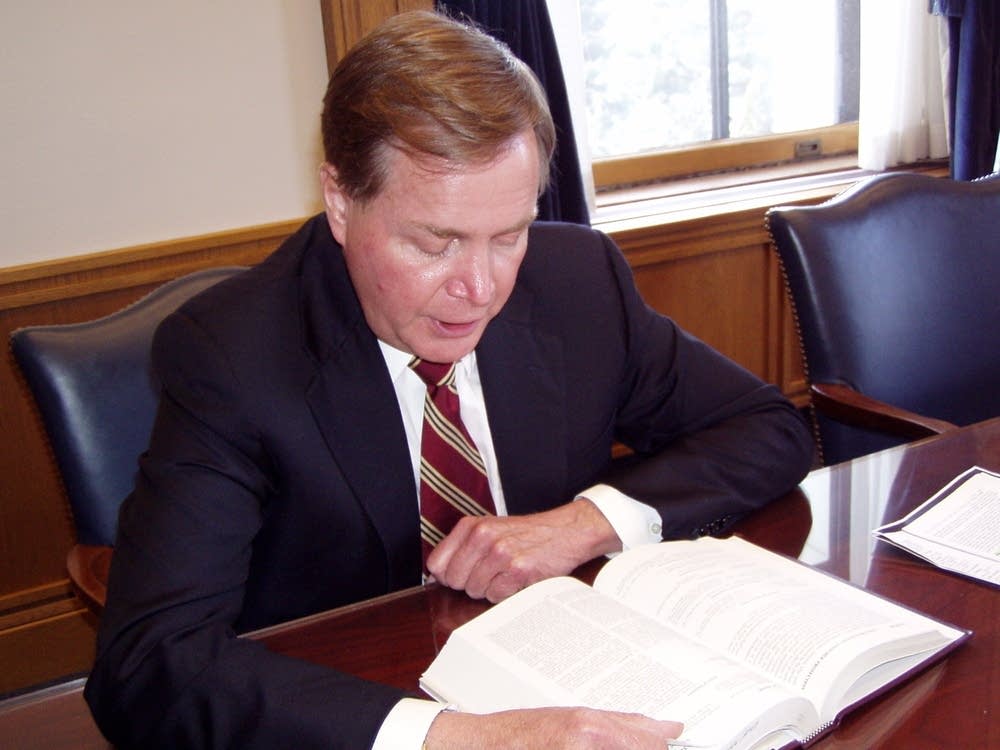 Attorney General Mike Hatch says there's nothing necessarily wrong with companies selling prescription drugs--or anything else for that matter--for less than they paid for them. He says it's perfectly legal for a business to have a sale, or even consistently sell products below cost to draw in customers. Hatch says what's illegal is when businesses intentionally lose money in an effort to force their competitors out of business. But Hatch says Minnesota law sets a pretty high standard.
"If this state were to sue a company because it's charging $4 for a prescription, and they were able to show they're making a profit on other products, they would win their case," says Hatch. "If they could show that they were not doing it for the purposes of driving out competition, but rather doing it as a promotional or humanitarian effort, they will win their case. So, I think they are wrong to say that this statute prohibits them from charging $4 per prescription."
Violations of the law are a misdemeanor, typically the province of a city attorney, and in some cases a county attorney.
But Hatch is the state's chief legal officer and also has jurisdiction.
Target did not return calls seeking a response to Hatch's reading of the law. Wal-Mart spokesman Kevin Gardner didn't want to be recorded for broadcast. But he says Wal-Mart stands by its own analysis of the requirements in Minnesota, Wisconsin and other states with similar laws. In those states, Wal-Mart will continue to charge $9 instead of $4 for about 17 percent of the drugs on its list.
Attorney General Hatch says he decided to study Minnesota's law, which was written back in 1937, after hearing that some lawmakers and the governor were considering changing the law. Hatch doesn't want to see that.
I suspect that larger retailers like Target and Wal-Mart would love to see this statute modified.

Minnesota Attorney General, Mike Hatch
"It would be a bad thing if this statute were modified. I suspect that larger retailers like Target and Wal-Mart would love to see this statute modified," says Hatch. "It would be a bad thing to do so. They can sell prescriptions at $4, and this statute does not interfere with their ability to do so. If they're using this as an excuse, they're wrong."
Hatch is nearing the end of his term as attorney general. He ran unsuccessfully for governor under the DFL banner this year. The man who beat him, incumbent Republican Governor Tim Pawlenty argues Minnesota's law against selling below cost may need some changes--regardless of Hatch's analysis. Pawlenty spokesman Alex Carey explains the governor's position.
"I think the fact that you have an outgoing attorney general that's saying one thing--that his interpretation is that the law doesn't apply in this case--yet you have multi-billion-dollar companies such as Target and Wal-Mart feeling as though they have to sell the drugs above a certain cost shows the need for seeking clarity," Carey says.
Minnesota Senate Commerce Committee Chair Linda Scheid, DFL-Brooklyn Park, also thinks it's possible that the law might need some clarification. Scheid wants to make sure Target and Wal-Mart can give Minnesotans the same $4 generic drug deal available in most other states. But Scheid, who hasn't had time to study the law closely herself, also wants to make sure lawmakers don't weaken consumer protections in the process.
"Obviously there's that old argument: You get rid of all the competition and then you're stuck with whatever prices are going to be charged."
Pawlenty spokesman Alex Carey says the governor doesn't want to erode consumer protections either. And he says it's too early to predict whether lawmakers will actually take up any changes to the state's law against selling below cost.