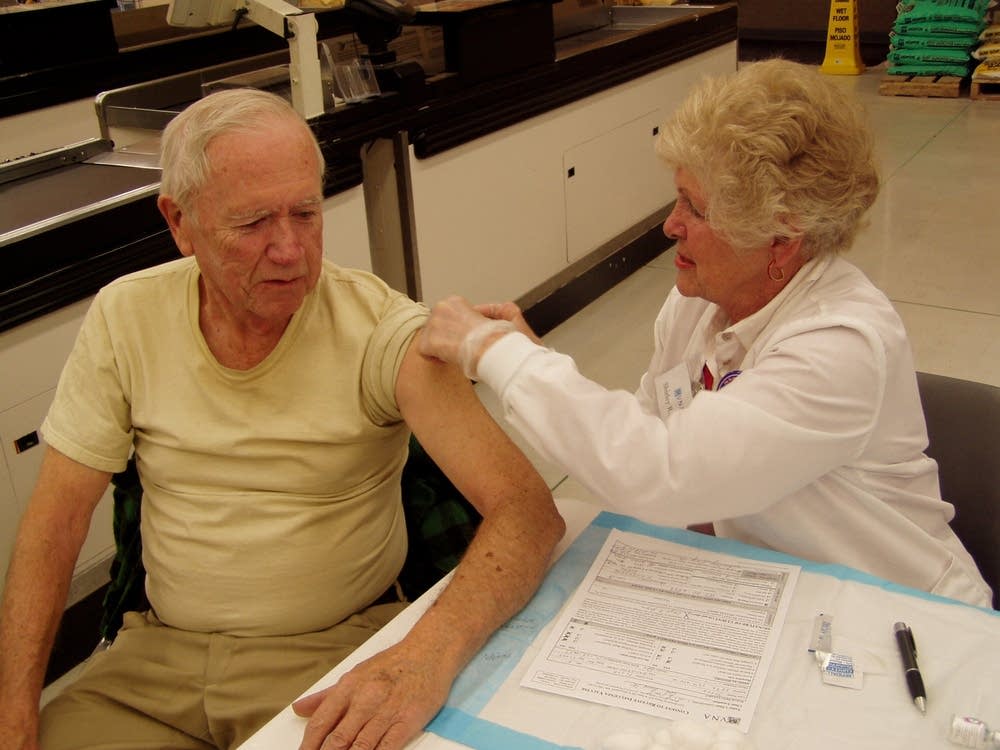 The Health Department is encouraging parents to get their children vaccinated following the flu-related deaths of four Minnesota children. They say this year's influenza virus appears to be circulating more widely in schools. A 44-year-old Minneapolis firefighter also died this week from flu complications.
There's nothing unexpected about deaths associated with influenza. But Minnesota's unusual flu cluster among younger people makes the case for vaccinations even more compelling.
Minnesota entered the flu season with more vaccine than ever this year. Manufacturers bumped up production to 100 million doses nationwide, compared to about 80 million the previous year.
If anything doesn't feel like it's getting better in a couple of days, I think it would necessitate seeking medical attention.

Infectious disease specialist Dr. Hal Martin
But for much of this winter, state health officials have been struggling to use up Minnesota's stockpile. Not anymore.
"We had folks who had vaccine two weeks ago and had some concerns about would it be utilized, and would we lose the opportunity to vaccinate people. And they're calling to say that they're not worried about that anymore," says Kris Ehresmann, head of the Health Department's immunization program. "There's been quite a response from the public, and so we're clearly using the vaccine that's available."
Minnesota's four pediatric deaths appear to be somewhat unusual. But that could be the result of more precise reporting. The state has only been tracking flu-related deaths among kids since 2003. In that time, the state recorded two other flu deaths in children.
Ehresmann says that's not enough data to draw any conclusions about this year's cluster. What officials do know is that a lot more kids are getting sick from the flu this year.
"This is really one of the first seasons we've had for a few years in which we've had more significant disease," says Ehresmann. "And that might also be contributing to the fact that school-age kids, who are not as old and haven't got quite the immunologic library as some of the more mature populations, are getting hit harder."
In contrast, the state is seeing very little flu in the state's elderly population so far. But Ehresmann points out that the flu season has not peaked yet.
She also says most of the state's 700 to 800 annual flu deaths are among the elderly and people with underlying health problems. These deaths are such a regular consequence of flu that health officials don't even tabulate them until the end of the flu season.
Dr. Hal Martin, and infectious disease specialist with Park Nicollet Health Services, says people with lung and heart problems are particularly vulnerable to the effects of flu.
"The stress of that much fever and high metabolic rate is going to potentially affect the heart," says Martin. "Influenza is primarily a respiratory disease so if you've got an underlying lung condition, then you're going to be more prone to adverse effects of it."
People with diabetes and compromised immune systems are also at risk of flu complications. But Martin says it's also important to remember that influenza can kill healthy people too.
Martin says anyone who is suffering from persistent flu-like symptoms should see a doctor.
"If you do have a real serious illness, often with a high fever and just terrible aches and pains, you should see yourself starting to get better probably after the third or fourth day. If anything doesn't feel like it's getting better in a couple of days, I think it would necessitate seeking medical attention," says Martin.
Doctors can treat influenza in its early stages with anti-viral medication. The most common drug they use is Tamiflu. But if a patient is sick with influenza for a few days, the drug isn't as effective. Once the illness has progressed, the patient's outcome often depends on their overall health before they got sick.
Martin and other health professionals all offer the same advice -- get a flu shot. But Dr. Jim McCord, a pediatrician with Children's Hospitals and Clinics, says patients should be aware that if they get a flu shot today, it won't protect them immediately.
"It'll take a couple of weeks to work," says McCord. "But it will give you protection the rest of the flu season which will stretch probably into April."
The Minnesota Department of Health has an updated list of flu clinic locations on its Web site.