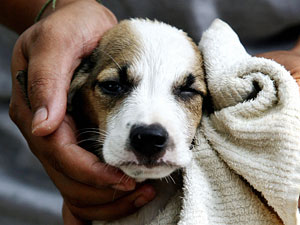 A University of Minnesota researcher has helped trace a genetic pathway between dogs and humans that could reveal the source of some cancers. The discovery has potential to better identify cancer risk and treatment.
University researcher Jaime Modiano worked with researchers at North Carolina State University to link certain types of leukemia and lymphoma to both dogs and humans.
Modiano said the link is important because the deliberate genetic manipulation of some dog breeds allows researchers to study them in a way not possible with humans.
"In dogs, the purebred populations are fairly large and each breed is susceptible to different types of diseases including cancer," Modiano said. "So some breeds get cancers more than others and some breeds get more of a specific type of cancer than others. So this allows us to actually start investigating the genetic links."
Modiano helped trace a thread between humans and dogs and an occasional rearrangement of chromosomes that sometimes develops into cancer.
By itself, this common misalignment is significant. But knowing about it is even more useful because dogs have a long history of genetic manipulation by humans. And that, Modiano said, provides a base of research that's not possible in the motley makeup of the human population.
"They're still individuals but they're much more closely related to each other than we would be to one another as humans," Modiano said. "So you can actually test individualized therapies that are targeted to whatever it is you identify in dogs in a group of hundreds as opposed to a group of one or a handful."