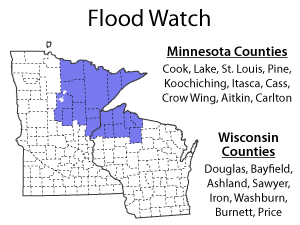 Forecasters are keeping an eye on rising river levels in parts of north central Minnesota, especially the Mississippi River in Aitkin.
The National Weather Service office in Duluth has issued a flood watch, in effect from tomorrow morning through Friday morning.
In Aitkin, the Mississippi River was about eight inches below flood stage, with forecasters predicting that the river could rise to 13.5 feet, one-and-a-half feet above flood stage. The Weather Service also said the Prairie River near Taconite is running high.
Two to four inches of rain is possible in parts of east central, north central and northeastern Minnesota. The rain could change over to snow across the northeast on Friday.
The Weather Service said additional heavy rain on Thursday and Friday could cause the river to rise even further, beyond what is currently forecast by the weekend.