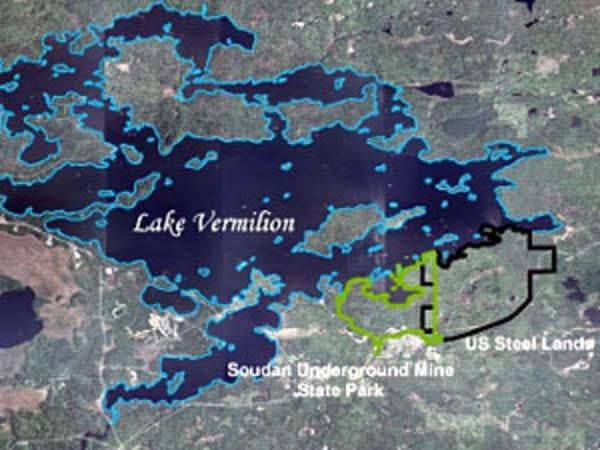 Gov. Tim Pawlenty and lawmakers agreed to budget $20 million toward the purchase of 3,000 acres of undeveloped land on the southeast shore of Lake Vermilion.
The state envisions what the Department of Natural Resources calls a flagship state park just north of Tower and a few miles west of Ely. Lake Vermilion has the rocky shorelines and pine forests typical of the nearby Boundary Waters Canoe Area.
The state park would take property currently owned by U.S. Steel Corporation. The company's been planning a high-end housing development on the land.
Speaking in Duluth, Pawlenty predicted a fantastic state park.
"Lake Vermilion is one of the most beautiful lakes in the country. The ability for average people to enjoy an up-north, or at-the-lake experience is diminishing because smaller resorts are being challenged," he said. "And, of course, because lakeshore property is so expensive. So to have this much pristine beautiful lakeshore available for people to use in the form of a state park I think is going to be an amenity that generations of Minnesota will really love and enjoy. And I think it's going to be fantastic."
The DNR plans to keep the lake shoreline as natural as possible, while providing low impact recreation like hiking and cross country skiing. Park camping facilities would be phased in over a couple of years.
But Pawlenty said the plan still won't please everyone. Some Northeast Minnesota lawmakers preferred U.S. Steel's proposed housing development, which could have generated jobs, taxes, and new residents.
Key to the deal, the state will make payments to local governments to make up for property taxes they'd have gained with the housing development. Pawlenty didn't say how much the local governments will get. Pawlenty negotiated the package with DFL leaders including area Sen. Tom Bakk of Cook.
"Most of the legislators - even the ones in this region - I think fall in the category of saying they would either support or tolerate it if we could get those payments in place," Pawlenty said. "And we did."
The park had support from the governor, the DNR, and conservation groups. Steve Morse, with Minnesota Environmental Partnership says the region is better off with a park instead of a housing development.
"I think the bigger question is, what is the future? What is the assets that are really going to draw people to this region in the future?" Morse said. "And we think a State Park can be very good, and will be very good for economic development purposes."
But the park plan isn't a victory for everybody. Rep. David Dill, DFL-Crane Lake, wanted a land swap. He said there's plenty of state owned property that could have been turned over to the private sector for development in exchange for the park at Lake Vermilion.
"You would think that considering we have the Boundary Waters and Voyageurs National Park and 1.5 million acres of additional land that's owned by the public in St. Louis County, that we could have found 3 to 5 thousand acres that we could sell, and allow development on," Dill said.
Dill says the park comes with a cost to local communities.
"I mean that community where the park is going to be established, or has been established as of yesterday, has a school that was built before the turn of the century; has declining enrollment," he said. "The graduating class; I don't know. I know that my son's class, he's graduating this year. He has a total graduation class of ten; eleven, my wife says. We are just suffering from economic opportunity, lack of."
The park isn't a done deal. U.S. Steel has to agree to sell the land. The company says the land is worth $22 million, while the state is appropriating only $20 million. The company says it will proceed with its development plans if a deal isn't struck by the end of June.