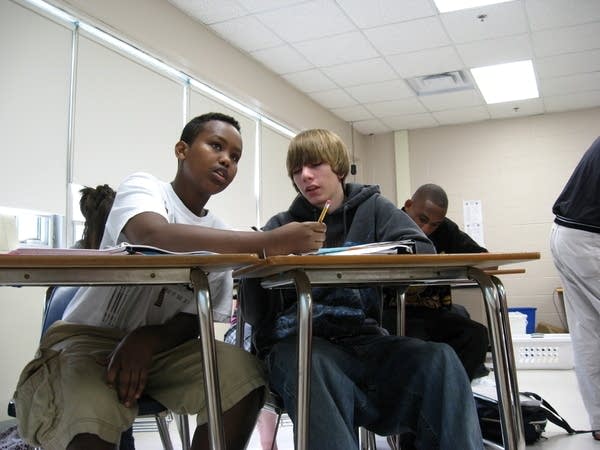 About 75 percent of the students in Rochester Public Schools are white. Black, Asian and Latino kids make up the rest of the population. Out of all those kids in the district, 22 percent of them don't do math or read at grade level. Of that number, more than half are white, middle class students, according to Superintendent Romain Dallemand.
"When we look at language, 64-percent of the students who are not proficient in reading, speak English as their first language. And in math, it's 67-percent," he explains.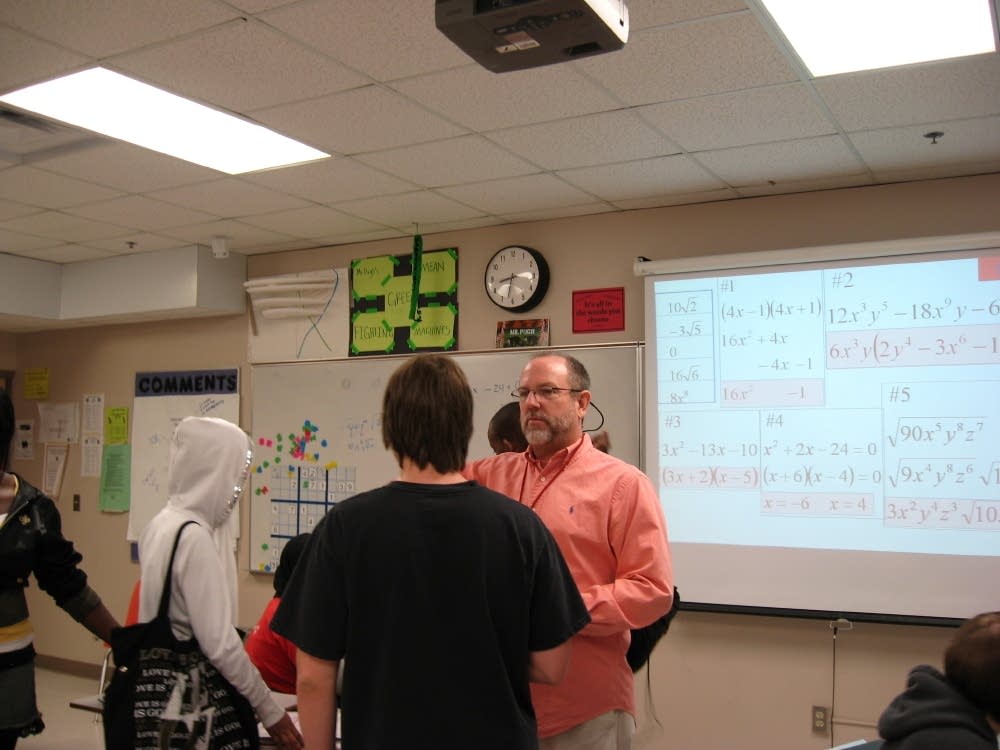 Only about one third of Rochester's students failing reading and math are low income; are minority or are learning English as a second language. That's the opposite of what the achievement gap looks like at districts in St. Paul or Austin.
These numbers prompted Dallemand to develop a five year plan that includes everything from extra-curricular involvement to training for parents.
It starts with revising how classes are taught. John Marshall High School algebra teacher David Pugh has done that partly by encouraging students to work together.
Fifteen year old Mohamed Mohamed leans across Pat Gunderson's desk. He explains how Pugh figured out the problem. He's so certain, I can't help but tell him he's the class' secondary math teacher.
"Maybe," says Mohamed, who came from Somalia six years ago.
Math hasn't always been easy, he says.
"After seventh grade I found it pretty easy."
Math was harder for Mohamed when he was still learning English and adjusting to life in Rochester. It's Pat Gunderson, from Oronoco, who typically barely passes math.
In Mr. Pugh's class, his grades are stronger.
"In this [class] I have a B," he says.
The way Pugh teaches this class differs from his previous math classes, Gunderson says.
"He helps you out a lot. If you need help he'll stay after school and help you or you can come in during lunch. I get along better in this class. Like you get to know who you're sitting by and they help you and you can help them."
David Pugh's classes are different in other ways, too. He gives short lessons and no homework, ever.
"My students are working harder with no homework than they were before with homework. Because when I would give homework assignments half of them would do it, half would copy. A lot of it never got turned in. But this way I'm working very hands on with all of the students while they're doing their homework and it gets turned in," he says.
He implemented these changes after visiting some of his students' homes during eighth grade summer school. Many of those kid were poor minorities.
"I realize a lot of the students I'm working with right now, they don't go home to a nice lights and desk and snack, and now you get to sit and do your homework. I've got a lot of them that have to watch their little brothers and sisters until mom or dad gets home from work," Pugh says.
Rochester is dealing with two kinds of achievement gaps, one made up of poor, minority kids, and another made up of white middle class kids. The kids who fall into either gap felt teachers had low expectations for them, Superintendent Dallemand says.
Now, expectations are being raised. The district will incrementally wipe out remedial classes. Each school will develop its own model to get kids and parents more involved. The plan has multiple goals. One is to bring all kids up to grade level within five years, Dallemand says.
"It's doable. It's achievable. It's not going to be something the school district can do by itself. It will take the entire community. It will take our parents, it will take our business partners, it will take everyone," he says.
Every parent in the district will be trained in motivating and communicating with their students. Some of that training will happen where parents work, some at churches. The library will have language and math programs the district is using on reserve. Businesses will help in science and math programs.