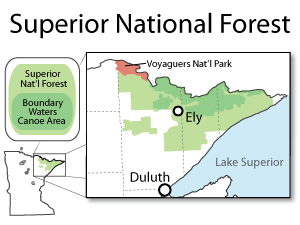 Rep. Jim Oberstar, D-Minn., has introduced legislation that calls for the U.S. Forest Service to sell 6,700 acres of land in the Superior National Forest to a mining company.
Under the bill, the land would be sold to PolyMet Mining Corporation -- without an environmental assessment or public input. The company wants the land so it can mine for copper, nickel, platinum and palladium.
Jim Sanders, supervisor of the Superior National Forest, says that without the bill, the Forest Service is prohibited from selling any land to a private party.
Usually, the Forest Service will trade land with property owners, but an exchange of this size would be difficult. Under the bill, proceeds from the sale would be used to buy private land in or near the Superior National Forest.
The land sale would be exempt from a separate environmental review, although an environmental review of the mining project is under way.
A spokesman for Oberstar says the bill was introduced at the request of the Forest Service and PolyMet.
-
Information from: Duluth News Tribune, http://www.duluthnewstribune.com
(Copyright 2008 by The Associated Press. All Rights Reserved.)