In Austin, what's underwater is underwater, and what's not seems to be doing all right. Roger Jacobs' blacktop driveway marks the dividing line between the two. Across the street an apartment complex pokes out of the water. Jacobs stands most of the way up his driveway, that's where the water stops.
"About where we're standing is the highest it's ever been in 1978," Jacobs said. "When I got up at 6, there was no water at all. And within an hour, hour and a half it had started moving across the road. I was as shocked."
Basements seem to still be the most common flood ailment in Austin and really slow traffic.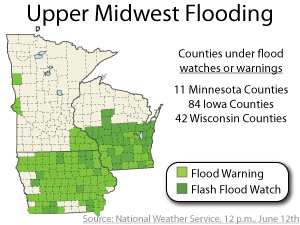 In the past ten years Austin has bought most of the property in the flood plain. That's reduced the number of businesses and homes affected by floods. The city is working on a watershed and dike project that should further reduce the flooding.
And just as quickly as the waters rise here, they fall. Austin Police Chief Paul Philipp says Dobbins Creek has started to subside, which has allowed I-90 to reopen. The Cedar River is still rushing through town at more than 22 feet, and Turtle Creek is rising, though slowly.
"We like seeing the blue skies. As the day wears on the forecast looks good. We're hopeful that the trends we're seeing on the river gages will continue to look good, and that we've weathered the worst of it," Philipp said.
The National Weather Service reports only a 25 percent chance of additional rain in southeastern Minnesota. If that holds true, Philipp says, officials from FEMA and Minnesota's Homeland Security and Emergency Management will survey the area Friday.
"We'll meet later this afternoon with some folks from FEMA, from the state, from the county and the city to determine what's going to happen tomorrow. But we know that the folks from FEMA are already here," Philipp said.
No deaths or injuries related to the floods have been reported, and the city of Austin managed to keep all of its infrastructure operating. The biggest inconvenience for most people, for those who weren't flooded, seems to have been the traffic.
North Main Street is badly flooded, and the only way across town is on 4th street. All afternoon traffic crawled along, with bikes and strollers and pedestrians zipping in and out of vehicles. One might have mistaken the traffic for a post-Twins traffic jam around the Metrodome.
"But for one major difference, the smell of putrid muddy water and the roar of it through town," Philipp said.
Judy Rojas and her three nephews stand on the fourth street bridge. The current of the Cedar River is so fierce it rolls back onto itself. Rojas says her home is fine. But she points to one nephew, Sonny, and says he has been really afraid. I ask her what he's been saying.
"That we've got to move to another town, because this river will kill usm," Rojas said.
She says she's told him the water won't hurt them, and they've biked to the bridge just to see it. Just then, he wraps himself around her legs and starts to cry.
She reassures Sonny, don t worry. Nothing is going to happen. He's never seen anything like this before.
But if he stays, he could see a lot more flooding. Austin has had at least two major floods in every decade since the 1940s.