Last month's Quinnipiac poll suggested that Democrat Barack Obama could walk away with Minnesota's ten electoral votes, since he had a 17 percentage point lead over McCain.
However, the latest poll shows a very competitive race. Forty-six percent of the more than 1,200 Minnesotans polled say they're backing Obama. Meanwhile, 44 percent support McCain and eight percent are undecided. Mix in a margin of error of plus or minus 2.8 percentage points, and Quinnipiac pollster Clay Richards says Minnesota may be a swing state after all.
"Clearly there has been a change here and clearly more independents and more young people are supporting Senator McCain than in the previous poll," said Richards.
Richards said McCain closed the gap by doing better among the always important independent voters.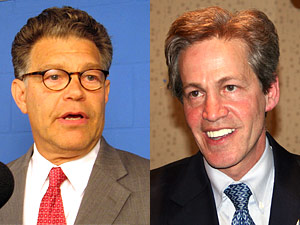 In June Obama had a 21 point advantage among independent voters. That lead has shrunk to eight points in the latest poll. Richards said it's clear that both campaigns will work to court those voters over the next four months.
"One third of independents say they're undecided, and that will probably be the group that will determine where this election ends up," Richards said.
More than half of those polled cited the economy as their most important issue, followed by the war in Iraq and health care.
And among voters' economic concerns, Richards said energy and the high price of gasoline are emerging as another key issue this election cycle. One in ten voters polled say they've changed their minds and now support drilling off the U.S. coasts and in the Arctic National Wildlife Refuge in Alaska. Richards said he was surprised to learn that voters are more concerned about a presidential candidate's position on energy than their position on the war in Iraq.
"In all four swing states, including Minnesota, that we polled, voters say energy policy is now more important then Iraq. That would not have been the case a month or two ago before gasoline prices soared," explained Richards. "It's refocusing the campaign and will probably continue to provide volatility in the polls..."
The poll also found a very pessimistic electorate. The vast majority, nearly eight in ten, said they were dissatisfied with how things are going in the country.
Officials with the two presidential campaigns are using the poll as motivation. McCain spokesman Tom Steward said strong poll results, along with several visits by McCain, help energize his base.
"Even though you have to take it with a certain grain of salt, just because the polls fluctuate. It definitely tells people, reminds folks, not just our volunteers, but across the state, that Minnesota really is in play," said Steward.
Obama's Minnesota spokesman said he's not surprised by the virtual dead heat. Nick Kimball said the most recent poll numbers should prompt Obama's core supporters to redouble their efforts in Minnesota.
"I do think that showing this race a little bit closer, which is what we've always expected, might kick people into gear a little bit, might open up their eyes and come around and realize that this is going to be a close race," said Kimball. "Minnesota is famous for having close races for the most part."
Pollsters also queried voters on Minnesota's Senate race. The poll shows Republican Norm Coleman with a significant lead over Democrat Al Franken.
Fifty-three percent of those polled say they're backing Coleman, while 38 percent are backing Franken.
The poll shows Franken is still struggling to convince Democrats to support him, since one in five say they're voting for Coleman. The Franken campaign questioned the validity of the poll, saying it included a heavier makeup of Republicans.
Pollster Clay Richards says the results could also give McCain more reason to choose Gov. Tim Pawlenty as his running mate. He said picking Pawlenty might help swing the state to McCain.