The board includes commissioners from the five metro counties that approved a sales tax increase earlier this year. The extra money is to be used to pay for transit projects.
On Wednesday, commissioners voted to commit nearly $270 million in future sales tax money to building the Central Corridor light rail line between Minneapolis and St. Paul. That figure will change if construction costs increase.
Ramsey County Commissioner Jim McDonough says being able to show there's a commitment of local dollars will help score federal funds.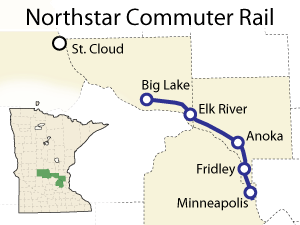 "Central Corridor's competing with 10 other projects that are in the same position we are," noted McDonough. "And, that helps us compete very well on the financing side."
The board also voted to spend sales tax money to pay for the Hiawatha light rail line, which means the Hennepin County property taxes that currently pay for Hiawatha won't be needed.
Hennepin County Commissioner Peter McLaughlin says that means property owners will see the levy from the Hennepin County Rail Authority decrease.
He says using sales taxes is fairer, pointing to Dakota County residents who commute to work on Hiawatha.
"With the current system, where we're relying on property taxes, they weren't paying for the operation of that line," said McLaughlin. "So, I think it reflects the regional nature of these lines and the regional nature of the customers who use them."
The board, called the Counties Transit Improvement Board (CTIB), was created a few months ago after commissioners in Hennepin, Ramsey, Anoka, Dakota and Washington counties approved a quarter-cent sales tax increase to pay for transit projects.
Scott and Carver counties also had the option to raise their sales taxes, but rejected the move.
The transit board also voted to commit future sales tax revenue to three other projects -- the Northstar commuter rail, which is under construction; and rapid bus lines along Cedar Ave. and I-35W.