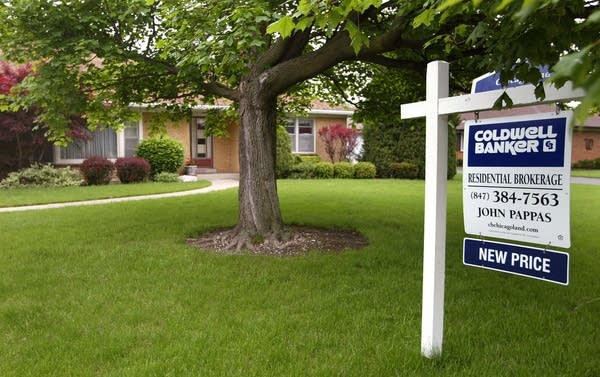 Coldwell Banker Burnet real estate agent Janice Jaworski has marked down eight of her 10 listings in the Twin Cities as part of a nationwide promotion to boost sales. And, it may be working.
Jaworski sold one of those houses today, a three-bedroom, single-family house in Cottage Grove. Jaworski said since the "sale" started last Friday, traffic has increased for her listings.
"There are probably homes I've had on the market for some time without any showings for three and four and five weeks," Jaworski said. "And now, not only did we get great foot traffic, but the showings have picked up as well."
Nationwide, Coldwell Banker has lowered prices at least 5 percent on properties of willing sellers, hoping to attract willing buyers who may be holding out and waiting for home prices to fall further. Coldwell Banker Burnet spokesman Leonard MacKinnon said the "sale" is a novel approach.
"It's kind of a new concept for our industry but we figured if the retail world can have sales, we thought we'd try it for real estate because people shop for homes like they shop for other things," MacKinnon said.
MacKinnon said it's too early to tell what kind of results the sale will produce, either in Minnesota or nationally, but he said buyer interest appears to be increasing based on traffic and phone calls.
About 1,500 in Minnesota, about 20 to 25 percent of the agency's listings, have been marked down 5, 10 or 15 percent for ten days. Not all real estate agents are seeing the benefits of the sale yet.
Agent Barbara Brin has been selling homes for more than 30 years. She said the timing of the sale may not have been ideal. It had the unfortunate coincidence of starting last Friday, the same day the stock market had one of its biggest losses ever.
"When we put the first ad in last Sunday, and last Friday, the stock market was still down," Brin said. "And I think people were just kind of hunkering down on Sunday just watching the Vikings win. We didn't see great effects from it, but we are hoping to this week."
But more ads are planned for this week and many of the 1,500 listings will have open houses next weekend as the sale comes to an end.
The competition is watching the Coldwell Banker sale.
Barb Jandric, the General Manager of Edina Realty, said it's important for any real estate company to be creative and try new things. She's hoping that her agency will get a boost from Coldwell Banker's 10-day sale, but she said her agency is trying other longer-term approaches to selling homes.
"For us it's more than about a 10-day thing," Jandric said. "I understand it. It can make some good sense but it has to be happening all the time."
Jandric said Edina is offering a one-year discount on interest rates for customers who buy from her and also finance. She said that promotion has been going on since September.