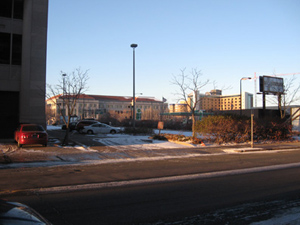 Downtown St. Paul is one step closer to getting a Lunds grocery store.
Edina-based Lund Food Holdings has signed a lease agreement to build a store inside a proposed hotel and luxury apartment complex known as the Penfield.
For years, downtown residents have clamored for a large grocer to set up shop. About 8,000 people currently live in the area.
The announcement is also a sign that the long-stalled Penfield project is not dead. Developer Bob Lux said the combination of apartments and retail will spawn new growth downtown.
"It's a good site for residential. But what is really needed is a grocery store to stabilize that residential market."
But the Lunds agreement does require the Penfield to be built.
Lux said he's hoping to finance the project in part with tax-increment financing and a grant from the U.S. Department of Housing and Urban Development.
But so far, he has not received any commitments.
He hopes the complex will open in 2011.