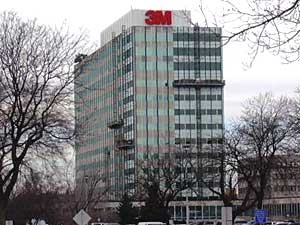 Maplewood-based 3M says it's eliminating about 1,800 jobs from its operations worldwide in the fourth quarter.
The cuts follow an earlier round of 1,000 layoffs in the third quarter of this year.
Several hundred jobs are expected to be cut in the company's U.S. operations, including the Twin Cities.
Company spokeswoman Jackie Berry says the global recession is behind the layoffs. "Given current global market conditions, we are expecting about 1,800 jobs to be eliminated worldwide," said Berry. "Several hundred of those job eliminations will be in the United States."
Berry would not be more specific about where the cuts will come from or how much they will save the company.
She says employees who are let go will receive severance pay and other assistance.
"Affected employees will have the opportunity to apply for other jobs within the company," said Berry. "They are also eligible for transition assistance, including severance pay and outplacement services."
Berry says the company is also "encouraging employees to take vacations and personal holidays during the holiday weeks of Dec. 22nd and Dec. 29th due to the current economic conditions," she said.
In addition, merit pay increases are being postponed. Berry said merit pay is normally distributed annually in April.
"What we have done is delay that merit increase," she said. "It's not part of the 2009 plan. However, that could change if the economic conditions are better than expected."