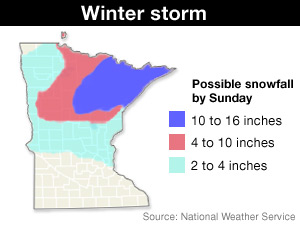 Minnesotans are bracing for what meteorologists forecast will be the first major winter storm of the season.
On Friday the National Weather Service in Duluth held a conference call with officials from MnDOT, area schools, local counties and homeland security to discuss the potential effects of the weekend storm on northern Minnesota and Wisconsin.
At present, meteorologists say Saturday night and Sunday will bring the biggest storm of the season so far to the northern areas of Minnesota. The bulk of the storm will move into northern and western Minnesota on Saturday night. The National Weather Service says the worst conditions will peak Sunday and Sunday night.
The heaviest snow is likely to fall along a line from Sioux Falls, S.D., heading north and west towards Brainerd and Duluth.
People within that area could see more than 10 inches of snow accumulation. Further north, the Iron Range and the North Shore could see snow accumulations approaching or exceeding 16 inches.
In the Twin Cities and southern Minnesota, the storm may begin as a mixed bag of rain, freezing rain and sleet before changing over to snow from west to east during the day on Sunday.
It appears the mixed precipitation types may limit snow amounts in the metro, with a quick burst of snow later on Sunday and Sunday night.
A band of significant icing may set up between the Twin Cities and Duluth.
High winds Sunday and Sunday night could create blizzard conditions in the Dakotas and western Minnesota.
Extreme cold with wind chills of minus 20 to minus 30 degrees below zero will follow the storm Sunday night and Monday.