At the Savers store on Lake Street in Minneapolis, you never know what you might find that strikes your fancy or fits your needs or body.
A designer suit, a toaster, answering machine, wine glasses, a pair of jeans, a Christmas tree stand; whatever it is, it'll likely be used. And cheap.
That's what brought Deborah Disher of Minneapolis to Savers. She was looking for a winter vest or jacket.
"I came here because yesterday I went to the Mall of America and everything that's normal price is just out of my reach right now," Disher said.
It's all fine quality and the prices are at least half of of what you pay at the normal store and some are a ton less.

Deborah Disher
At Savers, her shopping cart was filled with potential purchases.
"I think it's all fine quality and the prices are at least half of what you pay at the normal store and some are a ton less," she said.
Savers is part of a segment of the retail industry that encompasses everything from pawn and consignment shops to nonprofit and for-profit organizations that resell goods.
The leader is Goodwill Industries, which does about $2 billion in annual sales. But there's no clear measure of how big the resale sector is.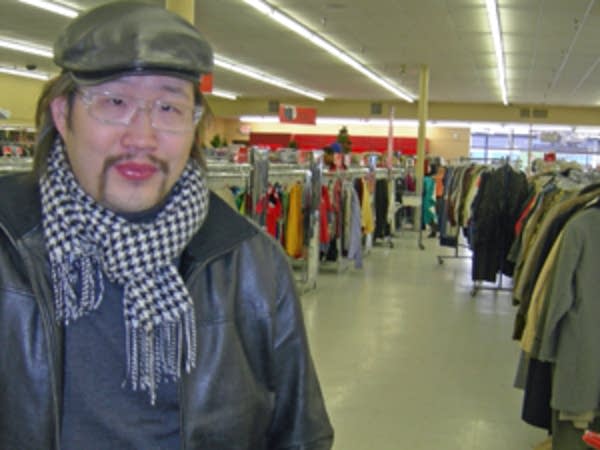 For some shoppers, there's not only a financial benefit to shopping stores like Savers, but also the pride that comes from bagging a great bargain.
"I bought my first really nice suit here," recalls Michael Wong, a University of Minnesota grad student studying sculpture.
He's a thrift shopping veteran, and he's especially proud of a Hugo Boss designer suit he snared.
"It was brand new and I don't know how it came to be here," he said. "But I bought it for maybe $30, $40 here and online it was like $400, $500 dollars."
A recent survey by the National Association of Resale & Thrift Shops found sales have been soaring.
Three-fourths of resale stores responding to the survey reported higher sales in September and October, compared with the same months last year, according to the trade group. The average sales increase was about 35 percent.
"People aren't willing to spend money on new stuff when used will do," said Jeff Schultz, production manager at the Lake Street Savers. "We have four stores right in the Twin Cities -- we are experiencing double digit growth in every store this year,"
Business is so good that next year Savers plans to open two or three more Twin Cities locations and a store in both Duluth and Madison.
Savers is a for-profit business that has some 200 stores in three countries. Savers partners with local charities, buying whatever goods they collect and trying to sell them for a profit.
What doesn't sell -- and that's three-fourths of what Savers takes in -- is recycled or shipped to third-world nations.
Sales are pretty good too at the Music Go Round store in St. Paul's Highland Park neighborhood.
Used Guitars account for about 60 percent of the store's sales and customers like picking them up for half the new price, or less.
"Believe it or not, our store is up a little bit this year," said owner Jeff McAllister. "We are happy about that. We're just hoping the rest of December will be strong as the rest of the year has been for us."
With the economy showing no sign of recovering soon, McAllister figures the outlook for stores like his is getting better.
"As belts get tightened more and more, I think people start thinking more of going into used and thinking more in terms of where can I save a little bit," he said.
Many thrift store shoppers say its not just about saving money, it's about saving the environment. Heather Kircher, a freshmen at St. Scholastica, said that's important to her.
"It's recycling," Kircher said. "If there's nothing wrong with it, why not keep it?"
The Plato's Closet store in affluent Woodbury --like its sister stores -- targets teens and twenty somethings who want popular brands at cut-rate prices. Most designer jeans are $20 or less. Even those that can sell for $60 or more new.
The store also draws parents like Ann Green, of West Spring Valley, Wisc., who hunt for deals for their kids. Green used have reservations about resale shops but she got over that long ago.
"If I like it and it fits and it's in good wearable condition, then I don't have a problem with it at all," Green said. "I think it's kind of an adventure and I can feel really good about a good buy."
That's a feeling more consumers are coming to appreciate as they lose -- or worry about losing their jobs -- and tighten their grip on their wallets.