The pews at the Basilica were full of family, friends, elected officials and employees who worked for Carl Pohlad's companies.
Among the notables with Twins connections were former players Bert Blyleven, Tony Oliva, Paul Molitor and current Twins manager Ron Gardenhire.
Father Ralph Goman recalled making visits to Pohlad's home. Goman remembered that Pohlad warned visitors as they left to watch their step as they walked down the stairs, and not to speed on Interlachen Boulevard.
"Goodbye, good friend. Pray for us as we will pray for you," said Goman. "Thank you, God, for giving us Carl Pohlad and his legacy of how to live and how to use the gifts that you, God, always give your people."
Pohlad's sons Jim, Bill and Bob highlighted parts of their father's life that are not well known. They joked that their father was a guy who didn't like fancy cars or long vacations. His favorite sandwich contained yellow mustard, gooseberry jam, bacon or sausage on toasted bread.
They painted a portrait of a man from humble beginnings in rural Iowa. Carl Pohlad's father worked for the railroad and was gone for long stretches of time. So Carl had to work to help support his mother and sisters, Bill Pohlad said.
"Dad's childhood was the stuff of Mark Twain or John Steinbeck."

Bill Pohlad
"Dad's childhood was the stuff of Mark Twain or John Steinbeck," said Bill Pohlad. "To help the family make ends meet, he hired friends to work in the fields of a local farmer. He hopped trains with nothing but the clothes on his back, and delivered bootleg whiskey during Prohibition."
Young Carl also swept floors in a bank, and drove the bank manager around as he made his rounds to collect debts. That was his dad's introduction to the world of banking, Bill Pohlad said.
While banking would be the main source of his fortune, Carl Pohlad met the love of his life in 1946. That's when he met Eloise O'Rourke on a blind date.
"It was love at first sight, and they were married the following April," said Bill Pohlad. "During the next 56 years, Carl and Eloise had three boys, and raised them seeing what love, marriage and family truly meant."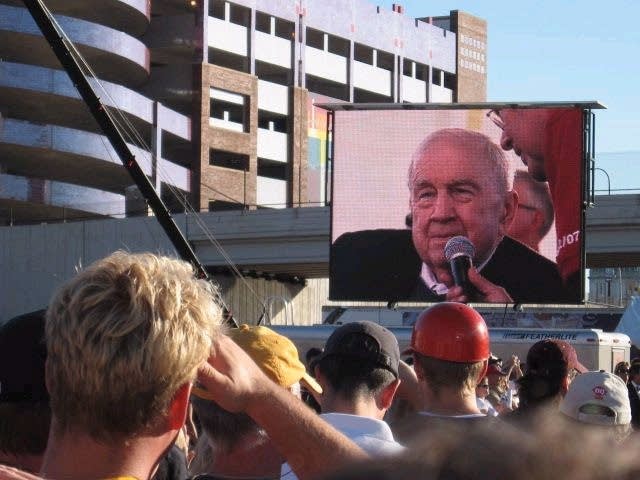 Eloise Pohlad died in 2003.
Pohlad's sons also remembered their father as a tough dealmaker -- the guy the sports media painted as the owner Twins fans loved to hate. Pohlad earned no love from the public after he threatened to move the team if he didn't get public financing for a new stadium.
The Twins were more than a source of revenue, Bob Pohlad said. His father loved to get autographs from star players like Kent Hrbek and Kirby Puckett and give them to kids, he said.
"I think that was what was so important about the Twins. Baseball represents opportunity, competition, winning, kids and family," he said.
Bob Pohlad choked up several times as he talked about his father's life and his last day alive. While the rest of his father's body seemed to give up, his heart kept beating, he said. And in his last words to his dad, he tried to let him know that it was OK to go.
"Dad, you don't want to live like this anymore. So go and be with mom. Just say hi for me. I love you dad. More than the world."