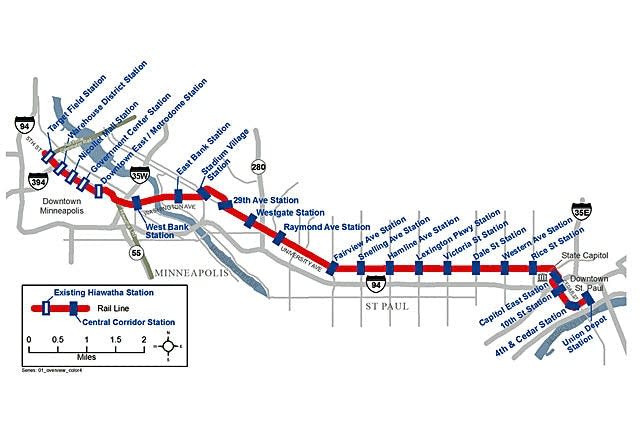 The St. Paul City Council has delayed action on a resolution opposing a plan to use a building in Lowertown for the Central Corridor light rail project.
The Metropolitan Council plans to use the building as a maintenance shed for train cars for the line linking St. Paul and Minneapolis.
Council members agreed to revisit the proposal in two weeks. In the meantime, they plan to come up with alternative ideas.
St. Paul Mayor Chris Coleman supports the plan.
But city council member Dave Thune opposes it, saying that putting the maintenance facility in a vacant factory building would hurt retail and housing development in the neighborhood.
Thune said he's hopeful the city can come up with a better alternative.
"If there is a possibility to do something that does no harm to the community down here and still keeps light rail on track then I think they will see that as well and we are all going to win," Thune said.
Thune said Lowertown is expecting millions of dollars in development over the next few years that could benefit the entire city. He says development potential needs to be factored into any plan.
"You can save $3 million now, but when you are looking at potentially a billion dollars in development, that would be a foolish thing to pass up," he said.
The city council is expected to vote on the plan in two weeks. The Met Council has said if the council blocks the plan, it could delay the Central Corridor project and threaten its federal funding.