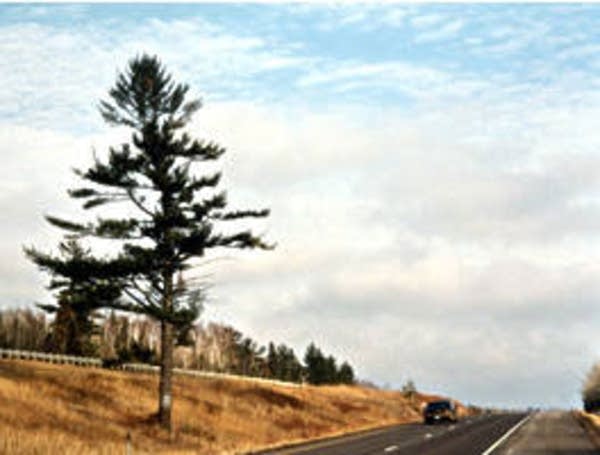 Vandals have felled the iconic "honking tree" just south of Two Harbors in northern Minnesota, upsetting the residents of the small northern Minnesota town accustomed to tooting their horns whenever they went by.
Lake County Sheriff's Department dispatcher John Brandt said a state transportation worker called it in Thursday morning. He found the tall, lone, white pine on its side.
"He was driving up to work in Two Harbors here and drove past there. He said something didn't look right, so he turned back around. The tree was laying there. Someone had cut it down with a chainsaw," Brandt said.
The tree has stood in the grassy median of the Two Harbors expressway for decades. It was called the "honking tree" because of the local custom to honk when driving past the tree. No one knows how the tradition got started.
It was also known to some as "Charlie's tree" for Charlie J. Hensley, who was chief inspector when the expressway was built in the 1960s. He died in 1967.
"He used to sit there (under the tree) and have his lunch," said Minnesota Department of Transportation regional spokesman John Bray. "He ordered the contractor to make sure that while the expressway was being built, that tree not be touched."
The tall pine stood about three miles south of Two Harbors. It was nominated for inclusion on the National Register of Historic Trees, a list kept by the Washington, D.C.-based nonprofit American Forests.
Plans to save the tree trunk were already being made Thursday afteroon.
"There are a lot of ideas floating around," said Steve Baublitz, the MnDOT worker who reported the downed tree.
One suggestion has been to carve it into an image to put on display, but nothing has been decided.
Word of the vandalism spread quickly through town. Mayor Randy Bolen mentioned it at an early morning downtown business association meeting.
At the SuperOne store, employee Treasaigh Anderson was shocked by the news.
"It was a tradition for us to honk as we headed home," she said. "The kids would say we had to honk for each one of them as we went by. When I was a kid, whenever I saw that tree I knew I was almost home. I'm almost in tears."
Alicia Larson of Two Harbors stopped to take a photo on Friday.
"It's like a memorial, everyone knows that tree," she said. "It's been spray painted before, but why would somebody just cut it down?"
---
Information from: Duluth News Tribune, http://www.duluthsuperior.com