Two Democrats in Minnesota's 6th Congressional District say they intend to challenge Republican Rep. Michele Bachmann in 2010.
Dr. Maureen Reed, who ran for lieutenant governor in 2006 as a member of the Independence Party, says she will file paperwork today to run for Congress as a Democrat.
DFLer Elwyn Tinklenberg, who lost to Bachmann in 2008, says he intends to run again as a Democrat.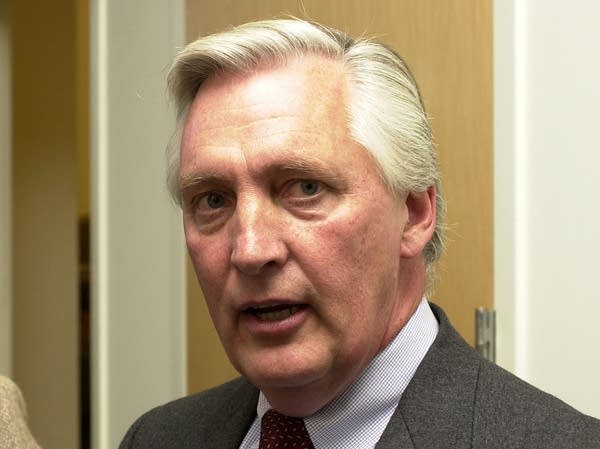 Tinklenberg said Bachmann has not provided any leadership in Congress, and has only voiced opposition to plans to jumpstart the economy and fix health insurance. He added that he's disappointed with some of her public comments.
"She has continued to expose herself as an embarassment to the district," said Tinklenberg. "She does not reflect the district at all, and I think the people of the district understand that."
Tinklenberg said he'll tell DFL delegates that he already has the campaign structure and funding in place to beat Bachmann. He has roughly $200,000 in the bank from his last run.
Muareen Reed lives in Stillwater. She has been an executive at Aspen Medical Group and HealthPartners, and is a former chairwoman of the University of Minnesota Board of Regents.
Reed said her campaign will focus on the issues facing voters in the 6th District, and would prefer not to focus on Bachmann.
"I'm concerned that the problems of this district be addressed. The issue of jobs, the issues of health care costs, the issues of homeownership, and that's what I'm going after," said Reed. "I'm working for, and running for, the opportunity to address those things."
Reed said she thinks she'll be an attractive candidate to political moderates and independents.
Bachmann's campaign manager Michelle Marston said today Bachmann doesn't have an opinion about whom she runs against.
Marston said most voters are happy that Bachmann is standing up against increased federal spending in Washington.
"They're concerned about spending, and they're concerned about what's going on in Washington," said Marston. "They're telling her to keep on doing what she's doing. They're just really happy that she's there fighting for them."
The race in Minnesota's 6th District has been expensive in recent years. Over the past decade, the major party candidates have raised more than $1 million each for the effort.