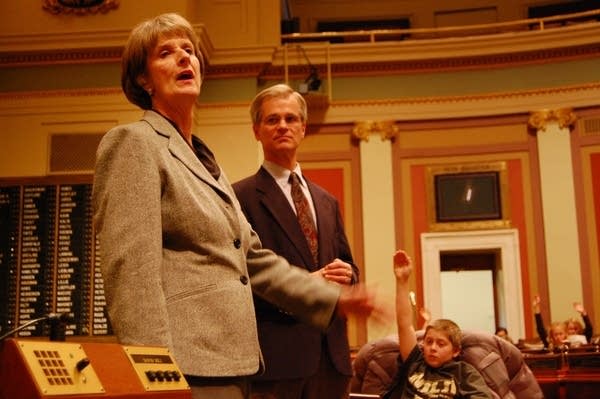 DFL Representative Mindy Greiling of Roseville said the K-12 education bill does not cut school funding. She said the bill also doesn't delay payments to schools, something House DFLers were relying on as a budget fix. Greiling said she hopes Pawlenty signs the bill.
"I don't think just because the Senate and the House have a victory in this conference committee for students, that they should count out the governor," Greiling said. "I think the governor could pounce on this bill and we could still end up with cutting."
Pawlenty's budget plan includes a slight increase in school funding, and he proposes higher cuts in other areas.
GOP Representative Pat Garofalo of Farmington said the bill doesn't spend enough.
"We're disappointed that it comes in less than the governor recommended," Garofalo said. "The governor proposed an increase in education funding. This freezes it. But more importantly, it has little to none of governor's reform or innnovation ideas. And I look forward to standing at the press conference where he vetoes this bill."
A spokesman for Governor Pawlenty wouldn't say whether he would veto the bill.
House and Senate negotiators have also agreed on a bill funding veterans services and agriculture programs. The bill cuts payments to ethanol producers, but fully funds veterans services.
DFL Senator Jim Vickerman of Tracy said the conference committee wanted to make sure veterans services were funded even in tough budget times. Vickerman said he wanted to finish the bill before an overall budget agreement is reached between DFL legislative leaders and Republican Governor Tim Pawlenty.
"I just want it out of the way," Vickerman said. "Done. We'll get it to the governor's desk. I just know he's going to be just as happy as I am. Because he wanted this vets bill too because it looks bad if we can't take care of vets."
The Legislature has until Monday to finish its work.