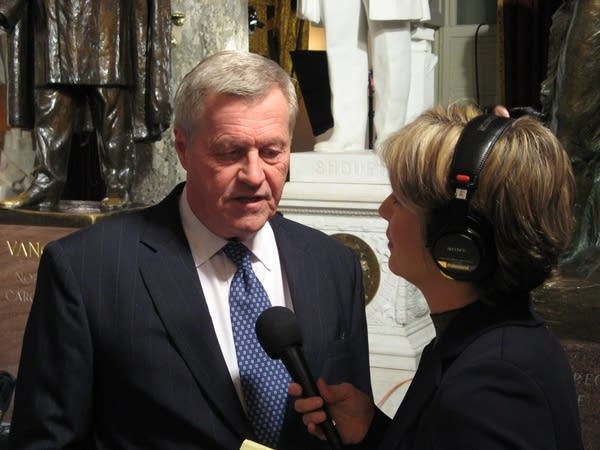 Citing how a sweeping climate bill could affect farmers working in the U.S. ethanol industry, Minnesota Rep. Collin Peterson said he's ready to join others in blocking the legislation from moving forward in Congress.
Peterson has been an outspoken critic of the American Climate and Energy Security Act, which the House Energy and Commerce committee approved late Thursday night by a 33-25 vote after four days of debate. Democrats largely supported the bill, while Republicans opposed it.
The bill's approval increases the likelihood that the full House for the first time will address broad legislation to tackle climate change later this year. The Senate has yet to take up the issue. If passed, the bill would impose the first nationwide limits on pollution blamed for global warming.
Peterson, a Democrat from Minnesota's 7th District, said the current bill would clamp down on greenhouse gases and threaten corn-based ethanol farmers. That's a big deal to Minnesota's ethanol industry, which employs more than 1,000 workers and buys more than $1 billion worth of corn each year.
The bill also requires factories, refineries and power plants to reduce emissions of carbon dioxide and six other greenhouse gases by roughly 80 percent by mid-century.
"It has the potential of basically killing off the whole ethanol industry," Peterson said in an interview with Minnesota Public Radio. "It'll almost guarantee that we'll never get to the second generation of ethanol if we don't get this fixed."
Peterson chairs the House Agriculture Committee. One of his major problems with the bill is that EPA regulations count the effects of expanding land use as one of the environmental impacts of corn-based ethanol. And that, he said, could disqualify ethanol as green energy and devastate the corn ethanol industry.
"The way the [Environmental Protection Agency] put this rule together is that corn ethanol does not meet the standards for greenhouse gases ... and Brazilian ethanol does, which is the most ridiculous thing I've ever heard of," Peterson said.
"I think you've got a lot of people pushing on this from different places," he continued. "Some of them are environmentalists, some of them are the Brazilians, the oil companies, livestock people, grocery manufacturers. They're all coming at this from different angles."
Environmentalists called the committee vote historic, even though some said they hoped the bill would be strengthened.
"The takeaway is that climate legislation is on the path to the president's desk," said Fred Krupp, president of the Environmental Defense Fund. "This bill is a breakthrough."
The bill must pass through several more committees, including the House Agriculture committee, before making its way to the House floor later this summer.
Peterson said he has the support of about 45 Democrats who will oppose the climate bill if changes are not made to the bill and ethanol doesn't get a reconsideration.
(The Associated Press contributed to this report.)