The Minnesota Department of Revenue is working to track down $108 million in unpaid sales taxes, an increase of $22 million from the previous year.
Revenue department officials say the current total for delinquent income taxes, corporate income taxes of various kinds, withholding and sales tax is $489 million, up about $30 million from last year. Minnesota has more than 300 people trying to collect the unpaid taxes, and they have a tough set of rules and regulations to aid them.
Revenue Department Collections Director Terri Steenblock and 314 colleagues spend their time locating tax delinquents and finding ways for them to pay up. The effort yields some serious dollar totals for the state.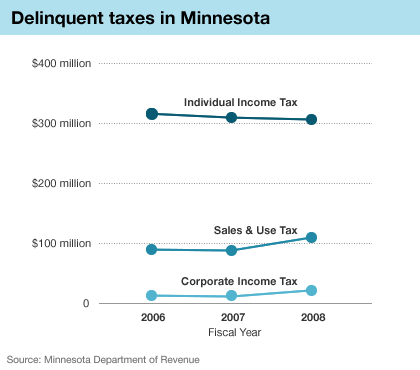 "Our dollars collected so far this year, we will exceed our goal, we're at $225 million. For the biennium we're at $472 million," Steenblock said.
Revenue officials have written off $36 million as uncollectable from people who have gone out of business, are untraceable or are dead. The collected delinquent tax is a welcome flow of funds for a state facing a $2.7 billion projected revenue shortfall.
Steenblock says her staff brings in somewhere between $5 and $11 for every dollar spent paying staff and other expenses.
Steenblock used to work in the insurance business. Her smiling and soft spoken demeanor reflects her sentiment that the state wants to work with delinquent taxpayers to help them find a way to make good on what they owe.
However if push comes to shove, Minnesota has a formidable array of tools to help you pay up, according to Steenblock.
"We can garnish your wages if you have a bank account. We can levy the funds in your bank account. We can do liens against your personal property, against your homes. For a business we can do what we call personal liability assessments where we assess the officer of the corporation and hold them liable individually for the debt, we can seize property," she said.
Northern Minnesota resort and boat marina owner Todd Christenson owes the state $60,074 in unpaid sales tax.
He doesn't dispute it, and he says it's clearly his responsibility. Christenson hired a management company to operate his Mille Lacs resort and marina in Garrison, and they didn't pay sales taxes, according to Christenson.
"It's my fault, as the owner of the business I need to take responsibility, I should have watched it closer, there's things I could have done earlier on to prevent the end result," he said.
The state revoked his sales tax permit and put him a list, with 125 others who owe unpaid sales taxes, on the Minnesota Department of Revenue Web page.
While Christenson admits he owes, he doesn't like the state's laws. He says loss of the permit, in effect, puts you out of business until you pay up.
"With all those things coming about you can't make a sale. If you can't make a sale how are you going to pay back the tax?" he asks.
One of the biggest sales tax delinquents is a car customizing business in south Minneapolis called the Bass Zone, according to state officials. Revenue officials say the company owes $544,293.89 in unpaid sales taxes.
Steenblock says Minnesota's tax delinquency rate compares with those in other states. One surprise, she says, is the state is not seeing a rise in taxes owed because of the recession.
The bigger picture for delinquent taxes is sobering. Taxpayers also owe Minnesota counties, cities and school districts unpaid property taxes.
The range of delinquent property taxes range from $719,000 in northern Minnesota's Itasca County to $60 million in Hennepin, the state's most populous and property-rich county.
---
Editor's note: A previous version of this story incorrectly stated that the Bass Zone was reopening under a new name because of a reporter's error. The current version is correct.