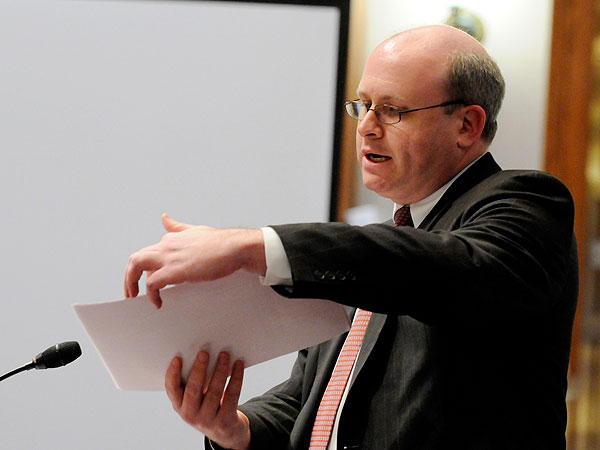 Five weeks after the trial began, the Coleman side wrapped up its case.
Franken's attorneys blazed through their case in just eight days. They brought evidence of what they claimed were wrongly rejected absentee ballots cast for Franken. Franken's lawyers argued their 225-vote lead over Coleman would grow larger if those ballots were included in the count.
FRANKEN'S ATTORNEY: PROOF ISN'T THERE
Three days into presenting his side of the case, Franken attorney Marc Elias called on the three-judge panel to dismiss Coleman's lawsuit. Elias claimed Coleman had nowhere near enough votes to surpass Franken.
"They have called more than 50 witnesses. They have introduced hundreds and hundreds of documents ... thousands of pages. And yet despite all of those witnesses and all of that evidence, they rested their case having proved little more than a handful of absentee ballots that were improperly rejected," said Elias.
The Franken side said Coleman had unearthed a grand total of six absentee ballots that were lawfully cast, but rejected from the count.
Coleman attorney Joe Friedberg didn't even attempt to dispute the claim that he was unable to prove everything the three-judge panel was requiring.
Friedberg told the judges their standard for counting rejected absentee ballots was wrong. He insisted Coleman needed to prove only that voters "substantially" complied with the law.
"Where is it written that we must prove compliance to that statute with a certainty? That's what you have apparently demanded of us," said Friedberg. "With all due respect, that holding was created out of whole cloth, and it just growed like topsy."
Friedberg also accused the judges of changing the rules about which ballots should be counted, claiming that some ballots counted by the State Canvassing Board were illegal.
FRANKEN'S LEAD GROWS AGAIN
At the end of March, the judicial panel ordered the delivery of about 400 rejected absentee ballots to the Secretary of State's office for review, to determine whether any of them had been wrongly rejected.
About a week later, Secretary of State staffers opened and counted 351 of those ballots in open court before the panel.
Although it was Coleman who wanted the additional ballots tallied, when they were opened and counted it was Franken's lead that increased, now to 312 votes.
Outside the courtroom, Franken attorney Marc Elias complimented Coleman's attorneys -- but not their case.
"The fact that you have very good lawyers, as you saw in this trial, can't change the underlying facts," said Elias. "And the underlying facts are that more Minnesotans voted for Al Franken than voted for Norm Coleman."
Coleman lawyer Ben Ginsberg called the new count inconsequential, insisting many more ballots should have been opened and counted. Ginsberg said Coleman would look to the Minnesota Supreme Court to bring at least another 4,000 ballots into the count.
Ginsberg reiterated Coleman's argument that absentee ballots that were rejected on Election Day in some places, but that would have been included in other areas, should be opened and counted.
"In our best-case scenario, the Minnesota Supreme court would tell the trial court to open up ballots consistent with the standards in place on Election Day," said Ginsberg.
On April 13, the three-judge panel ruled against Norm Coleman. The judges said Franken received more votes in the election than Coleman.
"The overwhelming weight of the evidence indicates that the November 4, 2008 election was conducted fairly, impartially, and accurately," the judges said in their opinion.
FRANKEN DECLARES VICTORY AGAIN; COLEMAN VOWS TO APPEAL AGAIN
Still, Coleman was not done. He promptly promised to appeal the ruling to the Minnesota Supreme Court.
Franken appeared once again outside his downtown Minneapolis home to thank his supporters, and to call on Coleman to give up the fight.
"We're starting to have health care policy that's going to be written in the U.S. Senate, and I want to be there that. And Minnesotans need two senators there for that," said Franken. "So I want to get going as soon as possible because we're facing tremendous problems in this country. An unprecedented array of problems."