Franken entered the final stretch of the campaign sounding many of the same themes he began talking about a year and a half earlier.
But as summer turned to fall and the economy began collapsing, Franken increasingly took advantage of opportunities to talk about middle class economic concerns.
DEBATE OVER WALL STREET BAILOUT
During the five Senate debates, including one at Breck School, Franken sold himself as an advocate for the middle class, and sought to link Coleman to the rich.
"If you think that President Bush has been right 90 percent of the time, well then, I'm not your guy," said Franken. "But if you want change, if you want a senator who believes that the middle class is the engine of our prosperity, and not the pharmaceutical companies and special interests and the very wealthy, then I ask for your vote."
As Congress debated giving the Bush administration hundreds of billions of dollars to begin bailing out Wall Street, Franken took the populist position of opposing the bailout -- even though many Democrats, including presidential candidate Barack Obama and Minnesota Sen. Amy Klobuchar, supported the plan.
Coleman voted in favor of the bailout. He said calls to his office were running strongly against the plan. But he said he would rather lose the election than see the economy crumble.
Coleman used the debates to contrast his 30-year record of public service with Franken's career as an entertainer. Coleman repeatedly suggested Franken lacked the temperament and civility to work in the U.S. Senate.
At a debate in Rochester which focused on the deepening economic turmoil, Coleman reiterated his "bringing people together" theme.
"As angry as I am, I am an optimist who believes in change by focusing on what unites us, not what divides us as Americans. And I think that's the true difference in this race for Senate," said Coleman. "Anger for anger's sake doesn't solve anything, it doesn't solve problems. But anger that brings change, by bringing people together for a safer, brighter Minnesota, is what we need."
BARKLEY RUNS; CALLS CAMPAIGN 'EMBARRASSING'
Joining Coleman and Franken for each of the debates was Independence Party Senate candidate Dean Barkley.
Barkley talked a lot about reducing the national debt. In the face of the bitter campaign ad war between his better-funded opponents, Barkley sold himself as an alternative to the political status quo.
At that forum in Rochester, Barkley both scolded and thanked Coleman and Franken for their negative approach.
"This has been an embarrassing campaign. I think Minnesotans should not have to have been put through this, and I am holding them both accountable on this," said Barkley of Coleman and Franken.
"They both sign off on these ads. They both signed off on their consultants, who say this is going to work," Barkley continued. "I really have to thank them both for doing it right now. I think I have been the beneficiary of their negative ads, because you're driving people to me."
Some polls showed Barkley had the support of nearly one in five voters in the state.
LOTS OF MONEY, LOTS OF ATTACK ADS
Minnesota's Senate race was, by far, the most expensive 2008 Senate battle in the nation. Not counting the millions that would go into the recount and lawsuits, Coleman and Franken raised more than $40 million for their campaigns. And they spent a lot of the cash on TV ads, often customizing response ads to the attack of the week.
Less than a month before the election, a Minnesota Public Radio News-University of Minnesota poll showed likely voters blamed Coleman for the negative tone by a more than two-to-one margin over Franken.
Days later, Coleman announced in dramatic fashion that he was suspending all negative campaign advertising.
"It's a rule of thumb on both sides of the political aisle that negative ads work. I'm willing to put that theory to a test and trust the higher standards of the people of Minnesota," said Coleman.
Coleman said he was making the move in response to the nation's worsening economic conditions.
"Like the vote I took last week on the financial stabilization plan, if this move costs me the election, I can live with that," Coleman said.
The Franken campaign didn't change its ad strategy, and called Coleman's move a "stunt" and a "cynical ploy."
As Election Day finally drew near, big-name outsiders were popping in and out of Minnesota to help Franken and Coleman.
Four days before the election, Former President Bill Clinton stumped for Franken before a crowd of thousands at the Minneapolis Convention Center.
"He doesn't just have the right rhetoric. He's giving you a very serious campaign," said Clinton. "His opponent made fun of his previous career as a comedian, but I think what's comical is how much more serious and substantive Al Franken's campaign for the Senate has been than the campaign of his opponent."
TEXAS LAWSUIT BECOMES 11TH HOUR ISSUE
Less than a week before the election came 11th hour allegations in a Texas lawsuit that a Coleman ally had funneled $75,000 to Coleman's wife through her employer.
Newspaper reporters confronted Coleman about the allegations as he left an event in St. Cloud. Coleman would not answer the reporters' questions.
Just four days before the election, Coleman denied the allegations. He accused Franken and other Democrats of sleazy campaign tactics, saying they were behind the charges.
"In a few days we will have one of the most important elections of our time. But instead of focusing on the issues, my opponent and his political allies want to divert attention away from this campaign with a false and malicious political attack," Coleman said during an appearance in Moorhead.
Frankly vehemently denied his campaign had anything to do with the lawsuit.
Still, Coleman went on TV in his attempt to turn around the story. And Franken responded with his own ad, saying Coleman's accusation that the Franken campaign was involved was a lie.
Not surprisingly, the allegations played front and center during the final debate of the campaign, which was hosted by Minnesota Public Radio News two days before Election Day.
Franken accused Coleman of having a political "sugar daddy." Coleman continued to accuse Franken of attacking his wife.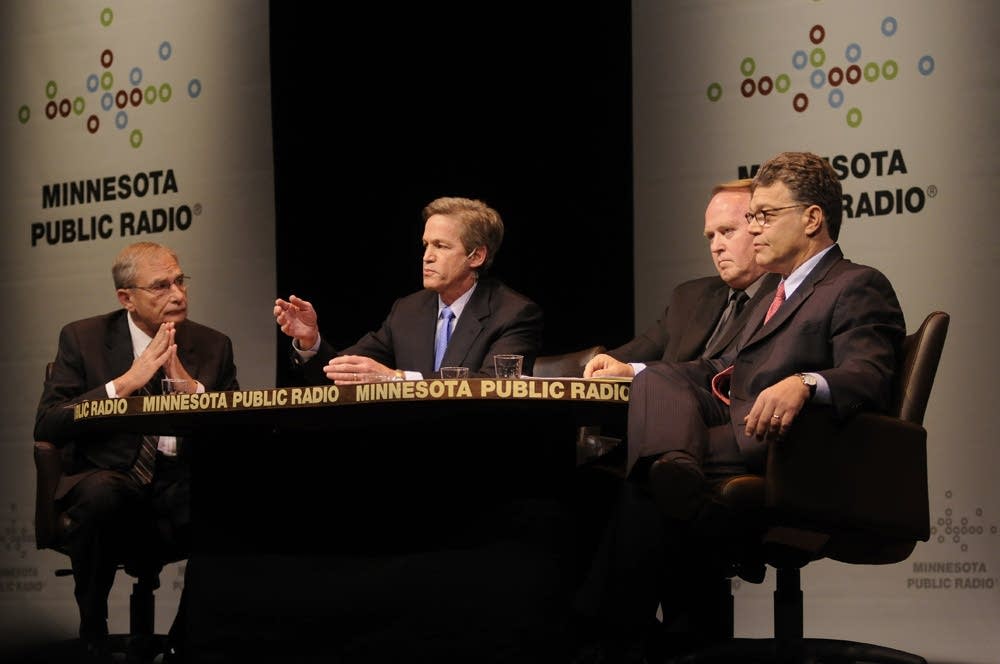 "Al, maybe you just don't know that there are lines that you don't cross. Maybe that's your career, of not knowing that there's a line to be crossed," said Coleman. "That's why in the end this issue comes up, because character is an important issue in this race."
"This is not about Norm Coleman's wife. This is about money," Franken responded. "This is about a sworn affidavit by a Texas Republican CEO that Norm's contributor and friend -- who flies him to the Bahamas and to Paris for vacations on his private jet -- had a conspiracy to funnel money to Norm Coleman."
There would be no resolution to those allegations before the election, and the lawsuit at the heart of the matter is still being litigated in Texas.
HEAVY HITTERS STUMP FOR COLEMAN, FRANKEN
The night before the election, New York Sen. Hillary Clinton was in Duluth campaigning for Franken.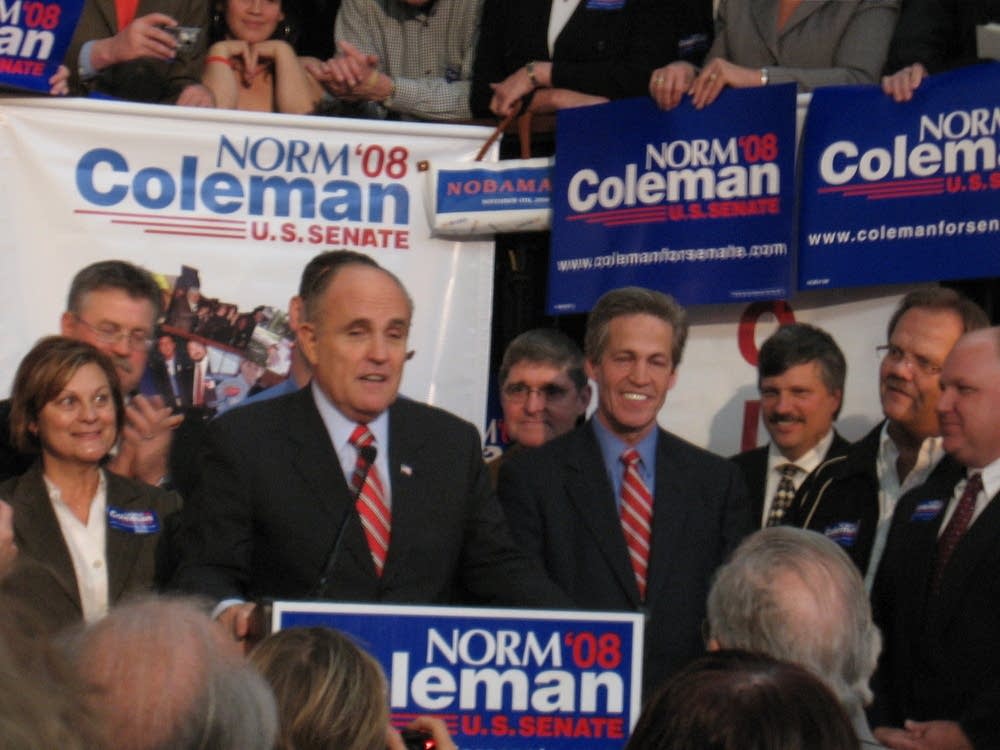 "I need a partner like Al Franken to make the changes in the Senate that we're looking for," Clinton said.
At the same time, former New York City Mayor Rudy Giuliani was at a popular St. Paul bar, firing up Coleman supporters. Giuliani sought to prop up the Coleman campaign's "Franken is attacking my family" theme.
"Maybe it's because he comes from the world of kind of cynical comedy, but there are certain things that are off limits. And I'm going to tell him what's off limits. Somebody's family is off limits," said Giuliani.
The campaign was supposed to be at its end. All of the rhetoric, the charges and countercharges, campaign ads and news conferences were to be a thing of the past. Finally, it was now in the hands of voters.
From the outset, Coleman and Franken predicted it would be a close election. No one anticipated how close.