On Nov. 5, the day after the election, Minnesota Secretary of State Mark Ritchie laid out the recount procedure.
IN 'UNCHARTED WATERS'
Ritchie told reporters that local election officials would carefully review each ballot looking for voter intent, not just checking to see whether ovals were properly marked.
"Normally you fill in the circle. We all kind of know that. Sometimes an individual will put a check mark, some individuals will put an 'X,' some individuals will circle the name. That's fairly easy to determine the intent of a voter," said Ritchie.
The election judges would see the voter intent that vote-counting machines cannot. The vote numbers were pretty much certain to change.
In cases where officials could not determine voter intent, Ritchie explained, ballots would be forwarded to St. Paul for review by a five-member State Canvassing Board. The board would also review any ballot decisions made by local election officials that either of the two campaigns objected to.
"We don't know how long [the recount] will take."

Secretary of State Mark Ritchie
Minnesota had not gone through a general election statewide recount since the 1962 gubernatorial election. Election laws had changed since then. The state was in uncharted waters.
"We don't know how long it will take," said Ritchie.
Prior to the recount, Minnesota's 87 counties formally double-checked their election night numbers as a matter of standard procedure. And as they did, Coleman's lead over Franken began to narrow.
Local election officials in a northeastern Minnesota precinct revised Franken's total from 406 to 506, citing a clerical error. Elsewhere, uncounted ballots were found in voting machines.
All told, revisions from around the state cost Coleman more than 500 votes.
INTEGRITY OF THE PROCESS QUESTIONED
So-called "canvassed" results rarely match initial election night numbers. Nonetheless, Republicans began suggesting there were improprieties -- that votes for Franken seemed to be coming out of nowhere.
Republican Gov. Tim Pawlenty was among those questioning what was going on.
"It's really important to the integrity of the process, and people's accepting the results, that the process be fair and that it be transparent, and it be secure and that it be accurate," said Pawlenty. "And some of the stories that are being circulating are quite concerning."
Secretary of State Ritchie, a Democrat, bristled at the notion that anything regarding the vote counting was dubious. He said those who cast doubt on the integrity of the process were engaging in unfortunate political strategy.
"Since these changes are part of the canvassing process, since it says 'unofficial count,' since every recount always occurs like this, we assume that campaign professionals know this," said Ritchie. "And the decision to use words designed to create a cloud over the election is a political strategy."
THE LEGAL MOVES BEGIN
Coleman unsuccessfully sought a court order to block the inclusion of more than 30 ballots from Minneapolis that had not been counted on election night.
With the recount set to begin, both campaigns were amassing money, attorneys and teams of volunteers for the post-election battle.
Less than a week before the ballot boxes were reopened, Franken made the first of what would be numerous legal moves surrounding the fate of rejected absentee ballots. Franken's lead recount attorney Marc Elias announced a lawsuit seeking the names of voters whose absentee ballots were not counted.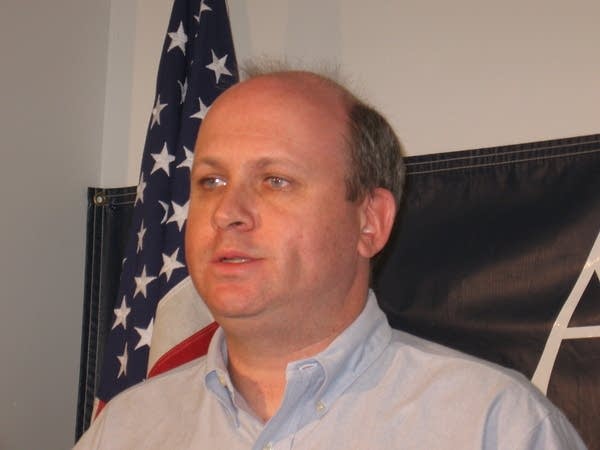 "This is not a lawsuit about putting ballots in the count or not in the count. This is about giving us access to the data," said Elias.
With the names of voters whose absentee ballots were rejected, Elias said he could begin working to determine whether any absentee ballots were wrongly kept out of the count.
To make the case that legal ballots were left out, Elias told reporters a dramatic story about a woman from northern Minnesota who was disabled, and whose valid ballot was rejected because the signature on her ballot failed to match the one the county had on record.
"I believe that all Minnesotans, and that all levels government in Minnesota, will want to do the right thing," said Elias. "If there are voters, like an 84-year-old stroke victim who went out and got her ballot in a nursing home, and completed that ballot and got it submitted on time, I think all Minnesotans can agree that her vote ought to be counted."
But the Franken campaign's powerful story turned out to be wrong. Hours later, officials said they had made a mistake -- the woman's ballot had not been rejected because her signatures failed to match.
The Coleman side accused Franken of trying to stuff the ballot box for the recount.
The issue of absentee ballots would be central, not only to the recount, but also to the ensuing legal challenges of the election. It would turn out that whoever was running behind in the tally would aggressively seek to open rejected absentee ballots, while the front-runner would fight the move.
When Franken was behind, his campaign released a Web video featuring voters claiming their properly cast absentee ballots were wrongly kept out of the count.
"This is my voter registration, and this is my absentee ballot that got rejected for not being registered, and I would like my vote counted."
"I may be a quadriplegic and you may have had a stroke, but we are still someone and we deserve to have our votes counted."
Weeks later, following the recount when Coleman was behind, he put out his own "count my vote" video. He even used portions of the Franken production to call for adding wrongly rejected absentee ballots to the count.