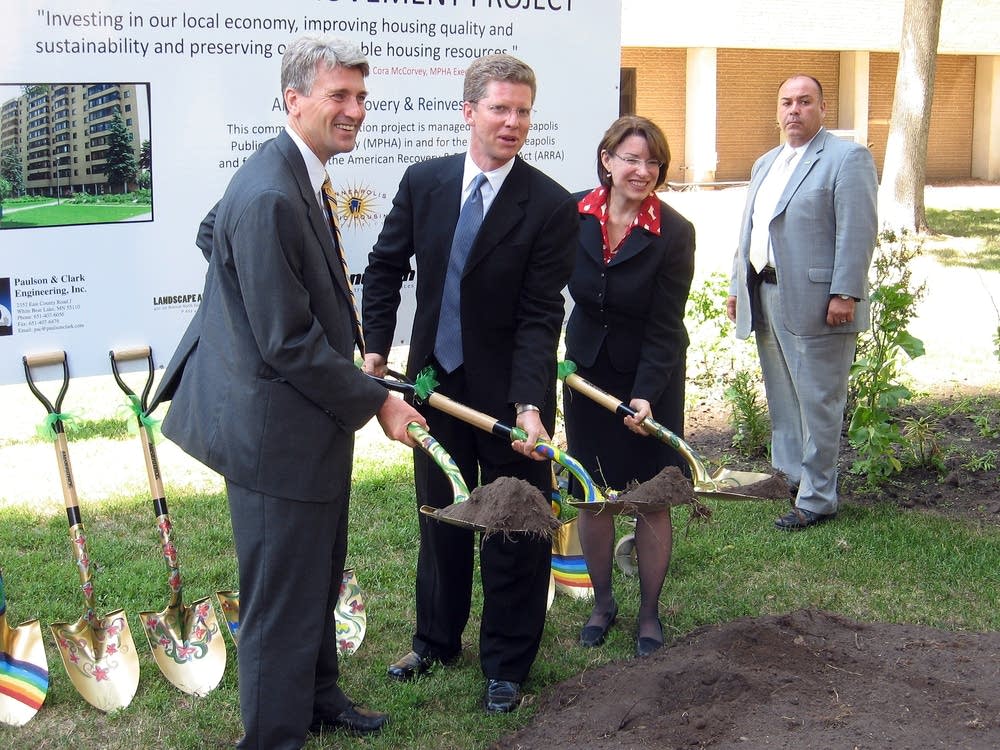 Department of Housing and Urban Develpoment secretary Shaun Donovan was in Minneapolis Friday to help break ground on a public housing construction project funded by federal stimulus dollars.
The ceremony was part of a brief tour of some neighborhoods hit hard by foreclosures. There, the secretary saw how the city is putting federal recovery dollars to work.
HUD secretary Shaun Donovan flung a shovel full of ceremonial dirt near a public housing high rise in the Cedar-Riverside neighborhood. The Cedar High Apartments are undergoing a series of capital improvements paid for by federal stimulus dollars.
Donovan came to Minneapolis at the invitation of the city's public housing authority director Cora McCorvey. McCorvey wanted the secretary to see first hand how it will use some $18.25 million in federal stimulus funds.
"Look around at this development," McCorvey said. "This development is a hub of activity. There's over $3 million worth of ARRA dollars for this project alone that have directly impacted the lives of many."
McCorvey said more than 100 workers will be employed here as a direct result of the American Recovery and Reinvestment Act passed by the Congress earlier this year. She said the improvements, which include new parking lots, landscaping and lighting will also benefit residents.
The city of Minneapolis expects to receive nearly $4 million in stimulus funds later this year. The money will pay for energy efficiency upgrades to homes, businesses and municipal buildings.
Meanwhile, Donovan said Minneapolis is already spending recovery money allocated by the previous administration.
"As I saw very personally, this morning, on our tour, you are using those funds in a remarkable, innovative way to coordinate with local community organizations and help neighborhoods facing a large number of foreclosures," Donovan said. "So I congratulate you on the great work I saw this morning."
Earlier Friday morning, Donovan walked around Cottage Park in north Minneapolis with Minneapolis Mayor R.T. Rybak, Sen. Amy Klobuchar and other city officials. The city used a combination of public and private dollars to build and renovate several homes around the park. City council member Don Samuels walked with Donovan and provided a brief history lesson of the area.
"This was ground zero for drug dealing," Samuels said, "and homicide, even, a few years ago. You could drive up here and see 20 cars lined up and 50 young men pedaling drugs right here on the street."
Samuels also pointed out that nearly nine years ago, the park was the site of the killing of an 11-year-old boy. Today, dozens of children, like 7-year-old Onea Miller, play on new playground equipment.
"I really like this neighborhood and the programs they have here," Miller said.
Miller and her father Michael live right across the street from the park. Michael Miller said his mother, who owns the home, is taking advantage of a federal program to improve the house.
"She'll be able to get all new windows, first floor, second-floor windows, energy-efficient windows," Michael Miller said. "Next step is maybe do something with the gate; anything to bring up the cosmetic appearance of the property."
Despite the progress made in this neighborhood, many more parts of the city are still full of vacant and boarded homes.
City officials are using a number of funds and programs to buy up the foreclosed properties, rehab and resell them. But the recovery here, as with other parts of the country, remains slow.