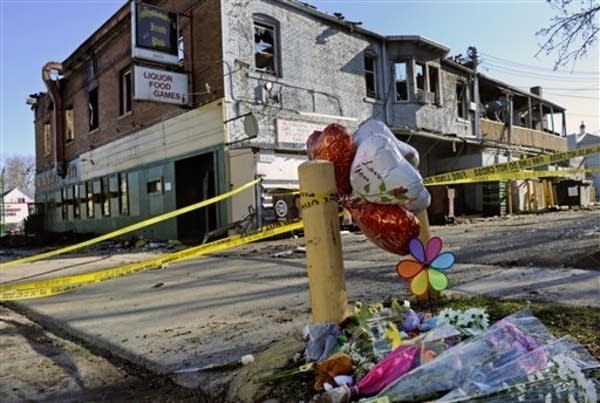 Andrew Gervais and his three young children were struggling, moving from place to place, but planned to stay just one night with his sister's boyfriend who lived above an Irish pub in Minneapolis, friends said. Now, all are feared dead after the city's deadliest fire in two decades.
The two-story building was black and gutted Saturday, a day after authorities pulled five bodies from the ruins: two men and three children who friends and relatives fear were Gervais, his children and Ryan Richner, a well-liked bartender at McMahon's Irish Pub.
Gervais' mother also was staying with Richner, and authorities on Saturday identified Ann Gervais, 43, as one of the fire's six victims. She died on the way to the hospital.
Authorities have not released the identities of the other five victims, and fire investigators still don't know what ignited the blaze. Richner's stepfather, Brad Schmidt, said he and his wife were waiting for confirmation - but were already thinking about a funeral.
"Ryan was the type of person who, if somebody needed something, he would help them out," Schmidt said from his home in Long Prairie, about 100 miles north of Minneapolis. "He would say, 'No problem, stay at my place. And if you need someone to talk to, I'm here for that too."'
A memorial of flowers, stuffed animals, toy cars and balloons grew Saturday behind the burned remains of the bar, where Richner began working full-time after leaving Brown College, Schmidt said. And he always looked forward to karaoke night, said his mother, Denise Schmidt.
Cliff Roland, who said he was a close friend of the family, said Andrew Gervais and his girlfriend recently broke up but Gervais won temporary custody of their children. He was moving around a lot until he got settled, said Roland, standing outside the bar Saturday morning.
Frequent bar patron Tom Jones, 64, and his wife set flowers outside the bar and said he was at the bar Thursday night before the fire. He remembers seeing two of the Gervais children waving from Richner's apartment window on the second floor.
"I thought to myself, those are some cute kids," Jones said, wiping away tears. "I just can't believe it."
Another friend, Becky Elliott, said Andrew Gervais worked off and on at the pub, doing dishes or "whatever he could." The last time they spoke, he took out a photo of his children.
"He just lived for those kids. He would do anything for them," said Elliott, who lives nearby.
Firefighters found the building ablaze Friday morning, but residents of the other five apartments including 11 adults and seven children escaped, according to the Red Cross. The fire was the deadliest the city has seen since 1986, said Assistant Minneapolis Fire Chief Cherie Penn.
Gervais' sister and Richner's girlfriend, Champagne Gervais, sobbed as she watched crews sift through the rubble Friday - having not heard from her brother, their mother, his children or her boyfriend. She said she and Richner had been looking for a place to move in together in Minneapolis. She didn't return a phone message Saturday.
"He was always happy, he was always the life of the party," said Richner's mother. "We don't want to have sappy funeral. Ryan wouldn't like that. We plan to have a celebration of his life instead."
(Copyright 2010 by The Associated Press. All Rights Reserved.)