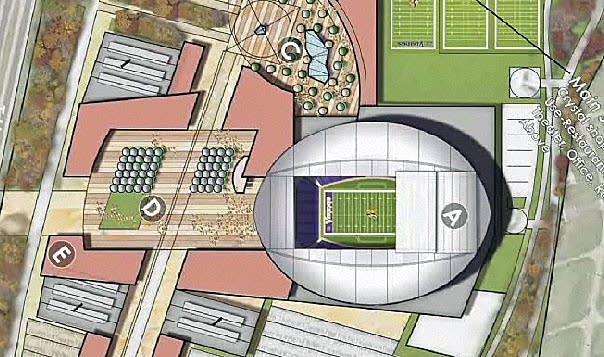 Gov. Mark Dayton confirmed Wednesday morning that he's willing to call lawmakers back for a special session on a Vikings stadium bill.
The governor said the current plan "was not ready to be brought forward" after being introduced in April. He said he wasn't happy with the financing, and worried that revenues pledged to pay back state bonds might not be sufficient.
He's offered to borrow $300 million for a new Vikings stadium. The plans currently call for that to be paid for with a mix of sales taxes on sports memorabilia, lottery proceeds, stadium fees and satellite television taxes.
"If it gets ready, when it gets ready, if it's a good deal for the people of Minnesota, it builds a people's stadium, then I'll seriously consider calling a special session if there's still a gap in time until the next regular session," Dayton said. "But we'll have to see. It takes every partner to make this deal happen, and that hasn't occurred yet."
For now, Metropolitan Sports Facilities Commission chairman Ted Mondale says a deal struck between the Vikings and Ramsey County is the basis for stadium negotiations. Their plan calls for a $1.1 billion stadium in Arden Hills.
"We're focused on the Arden Hills site to try to make that work right now," Mondale said Wednesday morning. "The Minneapolis site was ready to go a couple months ago, but right now, the focus is on Arden Hills."
That plan would likely have the Vikings playing in the Metrodome through 2014, with an inaugural season in Ramsey County in 2015.
Backers of a stadium at the Minneapolis Farmer's Market site, though, say they're hoping to take advantage of a delay. Developer Bruce Lambrecht said it was "good news for us" that the state has taken a pass on the Vikings stadium issue so far.
In the meantime, Mondale also said that the Metrodome is likely to get new turf next month.
He called the field "pretty nasty" after being exposed to the elements since the roof collapsed in December. The roof has been repaired, but he said the turf has been soaked for much of the interim period, and is contaminated by mold and bacteria.
He said he didn't think it would be a health issue for workers, players or fans in the dome, but that the turf was noticably odorous. He said contractors have already bid on a replacement of the turf, and that he expects work to start Aug. 1.