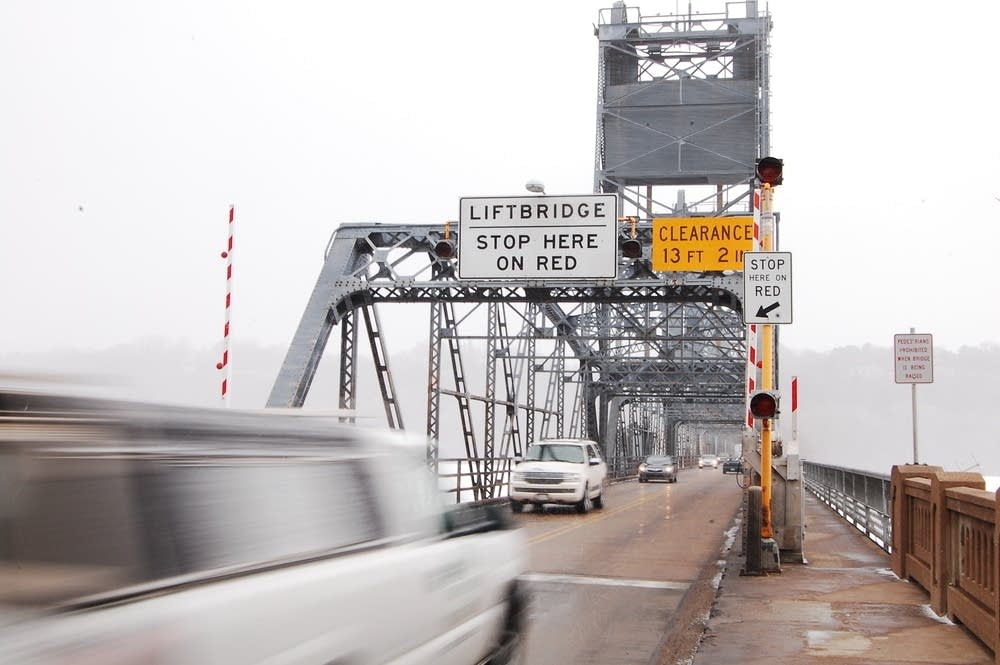 State officials are expected to announce soon the firm that will design a new bridge over the St. Croix River between Minnesota and Wisconsin.
The $676 million span to replace the decades-old Stillwater Lift Bridge is still years away from being built. But in and around Houlton, Wis., residents are speculating about the changes the new crossing may bring to the largely rural area.
The B & L Liquor Store is not far from the St. Croix River bluffs in Houlton, a town of fewer than 400 residents.
Plenty of people from Minnesota shop at the store, some taking advantage of its Sunday business hours. Debra Knops says her customers are looking forward to the new bridge opening up.
"They can't wait. It's long overdue. I mean, it's been, what, 75 years since we needed a new bridge? It's long overdue," Knops said. "I think people are excited on this side."
RURAL RESIDENTS RILED UP
However, not everyone in the Houlton area is happy about the project. That's because the new St. Croix bridge is much more than just a bridge, it's actually three major projects: firstly, there's the bridge itself; second and third are the highway approaches from the Minnesota and Wisconsin sides.
In preparation, the state of Wisconsin in the 1990s began widening eastbound Highway 64 towards New Richmond.
Now that the project has the green light, the state plans to finish extending the highway several miles west to the bridge landing. That means building a new roadway through acres of lush farmland.
And that's riled up farmers in the area.
In St. Joseph Township, four farmers stand in the small kitchen at 74 year-old Ed Gillstrom's 95-acre beef, cattle and corn farm.
Gillstrom has farmed his family's land full-time since he retired from Andersen Windows, his job of 42 years.
He says he was angry to learn the new highway will cut straight across his farm.
"Don't tell me that it isn't all politics: protect Stillwater and they take my land away from me as cheap as they can get it and set up an infrastructure for somebody that lives three or four miles from here," Gillstrom said. "Does that make sense? Doesn't make sense to me."
"Don't tell me that it isn't all politics: Protect Stillwater and they take my land away from me as cheap as they can get it."

Ed Gillstrom, farmer
Gillstrom's friend Neil Severson and his family work 200 acres of corn, beans and beef just east of Houlton.
Severson worries what the new highway will do to his farm business. He's not sure how he will transport his cows across the new highway, which will divide his property.
"Oh, it'll split it in half. There will be two sections to it right down the middle is virtually what it does," Severson said.
Officials with the Wisconsin Department of Transportation say they will consider providing farmers with cattle passes — tunnels for cows built under the roadway — as part of individual land negotiations.
WisDOT officials are still mapping out how much land they will need.
It's expected to take up to two years for the state to appraise and make offers on all property in the project right of way.
Landowners will have the right to negotiate price or refuse to sell their land. In that event, the state of Wisconsin could use eminent domain to take the land they need.
Severson isn't interested in the money WisDOT will eventually offer him for his property. He would rather not have the new highway or bridge built at all.
"I'm one hundred percent against it," he said.
SOME ARE SYMPATHETIC
Down the road from the Severson farm is Houlton Elementary School, located about six miles north of Hudson, Wis. With 240 students, the school is the smallest elementary in the district.
But the Hudson School District that includes Houlton Elementary has experienced dramatic growth since 2000.
The kindergarten population has spiked by 55 percent. District high schools are projected to be over capacity next year.
And those projections don't include any population growth planners say could come as a result of the new bridge.
Houlton Elementary School Principal Ann Mitchell says she expects to see more students in her classrooms once the bridge is built.
"I would anticipate over the long haul we would grow because it would invite more people to move to this side of the river and I think that is the long view," she said.
Mitchell is not against the new bridge herself, but she is sympathetic to the farmers who are. She grew up on land her dad still farms nearby.
"It's a farming community that is going through some changes and I hope that we can work through the challenges that make it difficult for some of the farmers in the area," she said.
Mitchell hopes planners will take farmers' needs into account as the bridge project moves forward.
People will have the chance to learn more about the St. Croix bridge project at the next open house on June 13 in Bayport, Minn.