Minnesota's Republican lawmakers quickly denounced the Supreme Court's decision Thursday to uphold much of the Affordable Care Act.
Rep. John Kline called the ruling ''a devastating blow to the American people.''
''If Washington can penalize private citizens for failing to buy government-approved health insurance, then there is no reasonable limit on federal power,'' Kline said in a statement. ''The president's health care law has radically transformed our careful system of government in which power is derived from the people. The vast majority of the public does not support this government takeover of health care and Congress must continue its efforts to repeal it.''
Republican Rep. Michele Bachmann, a vocal opponent of the health care overhaul, called the ruling ''a turning point in American history,'' during an interview with CNN's Wolf Blitzer.
''This is an even more far-reaching decision than anyone had expected or imagined,'' she said.
Bachmann said she will work to repeal the law, which she said will result in "massive job loss" and cast a ''black cloud'' on the nation's economic recovery.
Supreme Court Ruling
• Continuing coverage: Big Story Blog
• Read the ruling: Transcript
• Obama's reaction: Transcript
• Romney's reaction: Transcript
• Minnesota reaction: Politicians, union members comment
• Q&A: Ruling's impact on Minnesota
• Agree with the court? Take our poll

Rep. Chip Cravaack called the Court's ruling ''a huge slap in the face to every American who believes in free market and limited government principles,'' in a statement that included a fundraising appeal for his re-election campaign.
One of the most scathing statements came from Lee Byberg, the Republican running against Rep. Collin Peterson for control of Minnesota's 7th Congressional District.
''Obamacare should be repealed, shredded, thrown in an incinerator, and Congress should start from scratch on health care reforms,'' the statement said.
Rep. Erik Paulsen joined fellow GOP lawmakers in criticizing the health care overhaul.
''Americans deserve a government that works together towards meaningful health care reform," Paulsen said in a statement. "Unfortunately, today's ruling does not bring us closer to that goal, and only says that Americans must now face a choice between either paying a massive new tax or higher insurance premiums.''
Democratic lawmakers in Minnesota released statements praising the decision.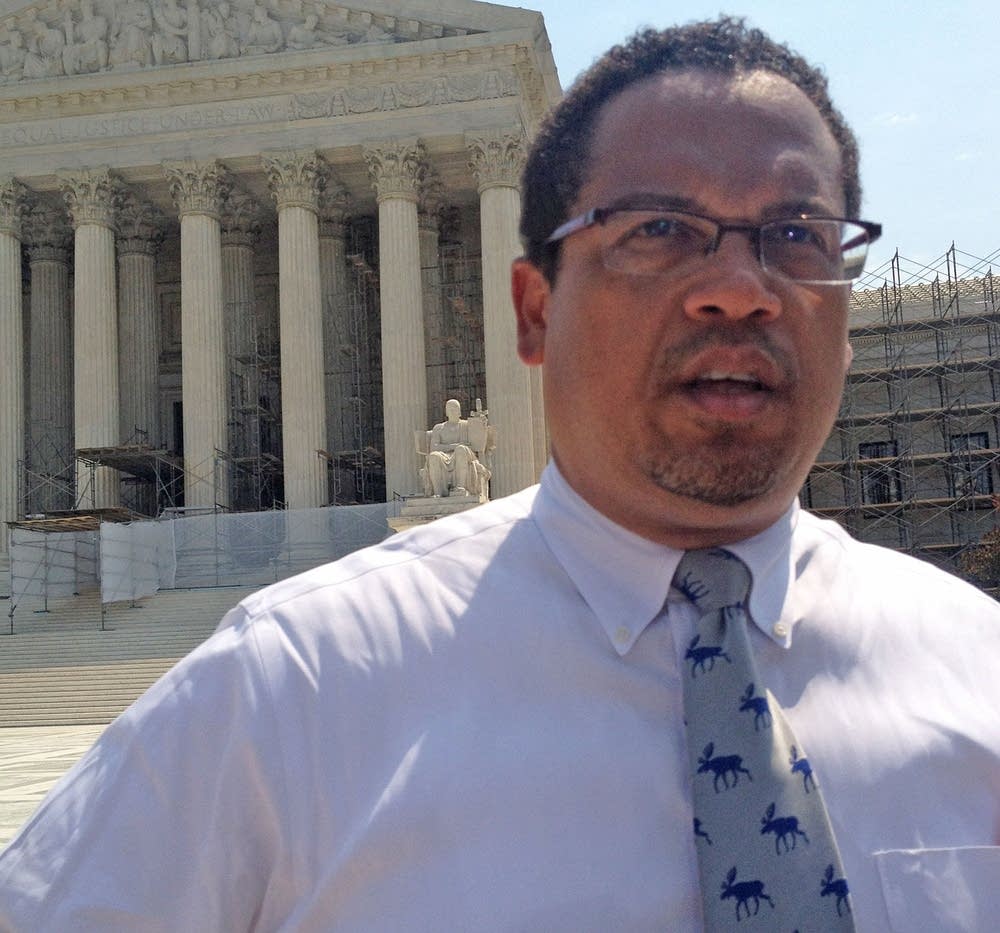 Sen. Al Franken called the ruling "a very good day for Minnesotans" and said he was not surprised at the decision.
"I always had the sense that the law would be held," he said.
Rep. Betty McCollum called the Court's ruling ''historic.''
In a statement, she said, ''It is now time for Republicans in Congress to end their vitriolic repeal campaign and work on effectively implementing this law to the benefit of the American people.''
Rep. Keith Ellison, co-chair of the Congressional Progressive Caucus, called the ruling ''a significant victory for the American people.''
''The health care law has already benefited millions of families,'' Ellison and Rep. Raul Grijalva, of Arizona, said in a joint statement. ''The Court's decision to uphold this law President Obama proposed and Congress enacted is a sign that dramatic change can happen when the American people demand change. We have made an important step forward toward our goal of affordable universal coverage. Now we need to be vigilant to implement the law so that American families have the health care they need and deserve.''
Jim Graves, the candidate seeking to defeat Bachmann in November, accused the GOP incumbent of "politicizing" the health care issue.
''Now is the time for the country to move forward as bending the cost curve of health care is critical to getting our economy back on track,'' Graves said in a statement. '' We all agree there are challenges before us. Unlike my opponent, Michele Bachmann, we are not interested in politicizing issues. Rather, we seek to come together as a nation and work towards bipartisan solutions to our challenges.''
Most of Minnesota's members of Congress were pessimistic that there was any chance the Court's ruling would lead to a cease-fire between the parties on health care.
But Democratic Sen. Amy Klobuchar pointed out that the Senate has recently passed bipartisan bills on transportation, farming and post office reform. She said she hopes the renewed focus on health care doesn't derail that spirit.
"There's just been a series of votes that give me optimism that, in fact, instead of relitigating all of these political battles for the next year and a half, that we actually are going to move forward with the economy," said Klobuchar.
Rep. Paulsen thought the parties might work together on one issue -- his efforts to eliminate the 2.3 percent surtax on medical devices that was part of the 2010 law.
"I think there are opportunities to find common ground, obviously, in repealing the device tax," said Paulsen. "In Minnesota we had every member of the Minnesota delegation vote to repeal that device tax."
But the repeal is not acceptable to the White House, which said the device tax is needed to help pay for expanding insurance coverage.
Minnesota state lawmakers, government agencies, and labor unions also reacted to the Court's ruling.
''This ruling is an affirmation of the reform efforts currently underway in Minnesota to improve health and lower the cost of care,'' Minnesota Department of Human Services Commissioner Lucinda Jesson, Commerce Commissioner Mike Rothman, and Health Commissioner Ed Ehlinger said in a joint statement.
''The ruling signifies real progress and important protection for citizens across Minnesota: affordable insurance for small business, young people can stay on their parents insurance until age 26, and guaranteed coverage for those with pre-existing conditions," they continued. "Minnesota has always been a national leader in health care and the administration will continue efforts to increase quality and improve access to insurance and affordable care will continue."
The Republican Party of Minnesota released a statement vowing to repeal what the group calls ''Obamacare'' and calling on Republicans to donate to the Party "to support our state's efforts in electing strong conservative leaders who will fight against this harmful law."
Minnesota Republican Party Chairman Pat Shortridge tweeted, ''Lesson: We need conservative Senators who are willing to vote against activist liberal judicial nominees, not rubber stamp them.''
Minnesota Speaker of the House Kurt Zellers released a statement claiming President Obama and Democratic lawmakers "have unleashed a massive expansion of government that will harm our economy every day until it is repealed."
DFL State Rep. Erin Murphy called the ruling ''a truly historic moment for the country.''
In a statement, Murphy said, ''Moving forward, I hope we can push aside the political stalemate of the last two years and work together with Republican colleagues to effectively implement these policies so Minnesotans and people across the country can reap the benefits for themselves, their families, and their communities.''
DFL State Rep. Tom Huntley also praised the Court's ruling. ''The benefits of fully implementing the Affordable Care Act are going to be very real for Minnesotans and their families,'' Huntley said in a statement.
Huntley emphasized that the Affordable Care Act requires insurers to cover people with pre-existing condition, eliminates lifetime caps on coverage, and extends parental insurance coverage to children up to age 26.
Labor union leaders applauded the decision.
''Our members worked tirelessly on behalf of all Minnesotans and played a critical role in the original passage of the Affordable Care Act,'' Julie Schnell, president of SEIU Healthcare Minnesota, said in a statement. ''Their strong advocacy has, two years later, meant we've seen Americans of all ages and backgrounds now have greater access to affordable health coverage.''
Linda Hamilton, the president of the Minnesota Nurses Association, released a less enthusiastic statement.
"While we are pleased the Supreme Court upheld the entire Affordable Care Act and that millions of deserving Americans will receive the health care coverage they so desperately need as a result, the job isn't done," Hamilton said in a statement.
Hamilton called on the government to expand Medicare to all Americans. "It's our mission as nurses to keep this country moving toward that goal," she said.
(MPR reporter Brett Neely contributed to this report from Washington DC)