63 Minneapolis homicides in five years remain unsolved
When Minneapolis police arrested two teenagers for the June 26 shooting death of a 5-year-old boy in north Minneapolis, it was because someone came forward to help make the case.
But too often, police say, citizens don't come forward with information that could help solve murders. That is one reason why Minneapolis' rate of unsolved homicides is higher than several other cities its size. And when police cannot solve murders, it can lead to more violence and can demoralize communities where the killings occur.
MPR News examined the last five years of homicide closure rates from the Minneapolis Police Department. The data show that between 2007 and 2011, Minneapolis police investigated 179 homicide cases involving the violent deaths of 185 people. The department closed about 65 percent of those cases. That leaves 63 homicide cases that have gone unsolved in the past five years.
A closed case is one that results in a complaint filed by the Hennepin County Attorney's office or is determined to be a justified killing. Not all homicides are murders. During that time, a dozen cases were closed because the killings were done in self defense.  Two officer-involved killings were determined to be justified. Two cases were closed when the suspected killers died.
Cleveland, Ohio, has about 14,000 more people and nearly three-times more homicides than Minneapolis. Between 2007 and 2011, 539 people were killed in Cleveland, where police closed 72 percent of those cases in five years. In Wichita, Kan., which has a population nearly identical to that of Minneapolis, there were 146 homicides between 2007 and 2011. Wichita police closed nearly 74 percent of those cases. St. Paul has about 100,000 fewer people than Minneapolis and a much higher rate of closing cases. Over the last five years, St. Paul police have solved 84 percent of the city's 74 homicide cases.
Lt. Rick Zimmerman, commander of the Minneapolis police homicide unit, said there is a direct link between a solved murder and help from citizens.  But Zimmerman says that help only comes when people trust the police. 
"If you don't have that trust, you're just not going to get anywhere in homicide," he said.
"To solve more homicides, Minneapolis police are trying to build public trust in city neighborhoods, especially in communities of color where many homicides occur, Zimmerman said.
More than 60 percent of homicide victims in the city over the last five years were African Americans — most between the ages of 16 to 29. Of the 63 unsolved homicides in Minneapolis over the last five years, 48 involve an African-American victim.
DIVERSIFYING THE DEPARTMENT
Having officers who look like the people they serve helps build that trust, said Zimmerman, who cited the murders of three east African immigrants at a south Minneapolis convenience store in 2010 as a prime example. Within hours of the shootings, Somali witnesses offered information to a Somali police officer that led to the arrest of the man who killed them. Police later arrested Mahdi Hassan Ali, who was eventually tried, convicted and sentenced to life in prison without parole.
"Diversifying the department is huge," Zimmerman said. "I know they have like, several Somali officers that have started on the job.  I know those officers have helped us with Somali cases, with Somali murders."
The Minneapolis Police Department has become more racially and gender diverse over the last several years. At last count, 20 percent of Minneapolis officers are people of color. Police officials say this is as diverse as the department has ever been.
POLICE NEED TRUST AND COOPERATION
Police officers say the biggest barrier to solving killings is the attitude behind these three words: "I'm not snitchin.' "
"The biggest hurdle is getting people to cooperate and stay on board," said Sgt. Gerald "Jerry" Wallerich, who has investigated dozens of homicides.
A 22-year veteran of the Minneapolis Police Department, Wallerich has spent 10 years in the homicide unit.
"It's not like you're helping the police department," Wallerich said. "You're helping your friend who was just murdered — and helping their family."
Inside the interrogation rooms where investigators have faced off with numerous murderers, suspected murderers and witnesses, Wallerich recalled the details of dozens of senseless killings.
"I've had murders where people have been beaten to death for a quarter," he said. "I've had murders that are domestic. I've had murders that are gang murders. There's really no rhyme or reason to the murders it seems like."
In the last decade, Wallerich said, murder suspects and victims have become younger.
When he asks a teenage boy why he shot a former friend, Wallerich said, the boy will just shrug his shoulders and say he doesn't know why he did it.  Some are truly remorseful, but others don't seem to care, he said.
Sometimes, finding a killer is simple, said Wallerich's partner, Sgt. Gerhard Wehr, who joined the force in 1987 and has worked to solve homicides for more than a decade.
"People saw who did it, know who did it," Wehr said. "They're not going to cover for anybody. They tell us immediately what happened. You know who did it. They pick them out of a lineup, you get search warrants. Things move a lot quicker, you're able to find more evidence, case is solved in a day or two.  It's pretty easy."
At other times, Wallerich said, witnesses tell police they want to cooperate but don't come forward because they fear retaliation. He said some refuse to talk because they may have involvement in the case that exposes them to other charges. And sometimes people who do talk either lie or hide certain details.
"Usually people don't tell the truth the first time they come in here," Wallerich said. "We've sat in here, six to eight hours with people and it's a big game of cat and mouse."
That's what happened when the two officers investigated the 2008 murders of Katricia Daniels and her 10-year-old son Robert Shepard. The killers spared the life of Daniels' 16-month baby. But they stabbed Daniels nearly 200 times and beat, strangled and stabbed her son.
Wallerich and Wehr solved that case, and arrested teenagers Stafon Thompson and Brian Flowers. After juries later convicted both of first-degree murder, they were sentenced to life without parole.
But the officers' interview with Tiffany Simmons showed how uncooperative witnesses can slow down an investigation.
On the night of the murders, Simmons dropped off her boyfriend Thompson and his friend Flowers at Daniels' house and picked them up several hours later. During the interview, the two sergeants asked her if the two teenagers told her if anything unusual happened. Simmons told them no.
But Simmons didn't tell them everything.  Simmons' roommate later told police that the day after the killings, she saw Simmons putting some bloody clothes that belonged to Simmons boyfriend, Stafon Thompson, into a grocery bag.   
Later that night the two officers paid Simmons another visit and Wehr confronted her about her earlier omissions. When asked why she didn't mention the clothes, Simmons said she was confused.
Flowers later told police that Thompson killed Daniels because he wanted her car. He said Thompson killed Daniels' son so there were no witnesses to the crime.
Wehr and Wallerich say they both get a sense of satisfaction from catching a killer and closing a case. They say it can bring a grieving family some sense of peace to see the person who murdered their loved one brought to justice. 
UNSOLVED CRIMES TAKE A TOLL
But when murders go unsolved, they can take a toll on the communities where they occur and not just on the victim's families. They also can lead to even more violence.
VJ Smith, national president of MAD DADS, Men Against Destruction Defending Against Drugs and Social Disorder, said members of the group frequently appear at homicide scenes and vigils to plead for calm and ask witnesses to come forward. Smith said he understands some people have had bad experiences with police and don't trust them. But he said it's important for witnesses to cooperate with police because the families of murder victims need that closure.
"When homicides don't get solved it has a critical impact on people emotionally," Smith said. "It has an impact on them physically and spiritually because there's just an empty hole. Nobody knows how to fill it."
Smith said grieving friends and relatives often fill that hole with thoughts of vengeance, rage and frustration.
Marsha Mayes, a Minneapolis mother who lost her three-year-old son Terrell Mayes, Jr. when somebody fired a bullet into their home on Colfax Ave. N on the day after Christmas last year, knows that feeling.
"Don't nobody even know how I feel," she said. "I be wanting to tear Minnesota up.  Do you know how bad I be wanting to go on Colfax and beat ... all them people over there?"
So far, no one has come forward with information on her son's killer. Mayes has since moved out of the neighborhood but still goes back there to knock on doors and try to turn up new details in the case. 
Mayes said she is also frustrated because she feels like she's doing the work police officers should be doing. 
"I feel like I'm the investigator," she said. "But guess what?  That's my job.  I'm the mama. And as long as my feet get up every day, I ain't going to stop."
Zimmerman, the city's homicide unit commander, said he has talked to Mayes and asked her to help the department generate leads. He said her son's case is particularly hard to crack because the shooting was so random.
Unlike the case of Nizzel George, the five-year-old who was also killed by a bullet fired from outside his home, Zimmerman said Mayes' house was not targeted.
Mayes said she still holds out hope that her efforts and the incentive of an $11,000 reward will inspire someone to come forward and help her find who killed her son.
Gallery
3 of 3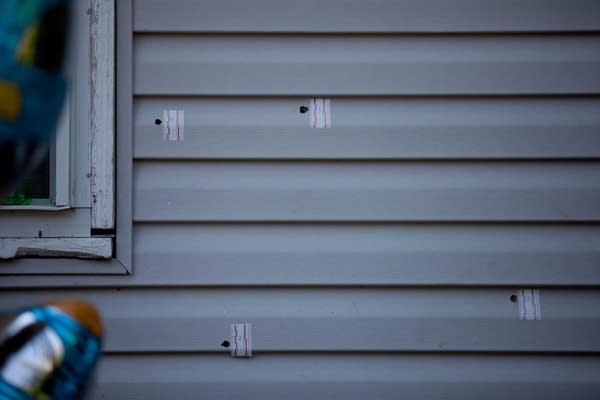 1 of 3
2 of 3