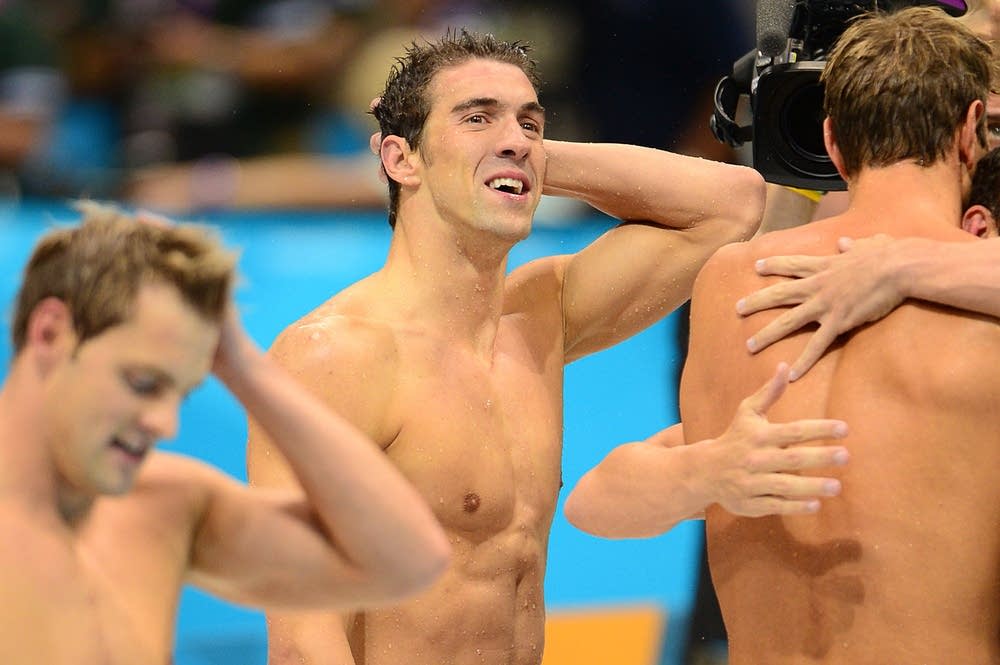 By PAUL NEWBERRY, AP National Writer
LONDON (AP) -- The finale was a formality, more a coronation than a contest. Michael Phelps headed into the retirement the only way imaginable -- with another gold medal.
Reclaiming the lead with his trademark butterfly stroke, the one most people first saw in Sydney a dozen years ago, Phelps won the 18th gold of a mind-boggling career in the 4x100-meter medley relay Saturday.
When it was done, Phelps hugged his teammates -- Matt Grevers, Brendan Hansen and Nathan Adrian -- before heading off the deck for the final time in his suit. He waved to the crowd and smiled, clearly at peace with his decision to call it a career.
And what a career it was!
Phelps retires with twice as many golds as any other Olympian, and his total of 22 medals is easily the best mark, too. He can be quite proud of his final Olympics as well, even though there were times he had trouble staying motivated after winning a record eight gold medals at the Beijing Games four years ago.
Bouncing back from a disappointing first race in London, a fourth-place finish in the 400 individual medley, Phelps wound up with more medals than any other swimmer at the games: four golds and two silvers.
Sounds familiar.
Grevers had the Americans in front on the opening backstroke leg of the relay, but Kosuke Kitajima put Japan slightly ahead going against Hansen in the breaststroke. Not to worry, not with Phelps going next.
He surged through the water, handing off a lead of about a quarter of a second to Adrian for the freesytle anchor. The Americans won going away in 3 minutes, 29.35 seconds, just off their own Olympic record from Beijing. Japan held on for silver in 3:31.26, with Australia taking the bronze in 3:31.68.
Women's swimming
LONDON (AP) -- The United States set a world record to win the women's medley relay at the London Olympics on Saturday.
The Americans clocked 3 minutes, 52.05 seconds, slicing 0.14 off the previous mark set by China at the 2009 world championships at the height of the high-tech bodysuit era.
Missy Franklin swam the leadoff backstroke leg, Rebecca Soni did the breaststroke, Dana Vollmer competed in butterfly and Allison Schmitt had the anchor leg in freestyle.
The 17-year-old Franklin, who starts her senior year in high school this fall, finished the meet with four golds and a bronze, while Schmitt leaves with three golds, a silver and a bronze.
Australia touched in 3:54.02 to take the silver medal and Japan finished in 3:55.73 to take bronze.
Tennis
By STEVEN WINE, AP Sports Writer
WIMBLEDON, England (AP) -- As Serena Williams stood atop the medal podium, her career Golden Slam complete thanks to an Olympic rout, the gusty wind on Centre Court blew the U.S. flag off its pole midway through the national anthem.
Old Glory came to rest in front of the Royal Box.
"It was probably flying to come hug me because the flag was so happy," Williams said.
Williams wore a smile herself after she became only the second woman to achieve a Golden Slam, winning the most lopsided women's final in Olympic history Saturday by beating Maria Sharapova 6-0, 6-1.
The victory completed a remarkable run of domination by the No. 4-seeded Williams, who lost only 17 games in six matches en route to her first singles gold medal. She went 13-0 this summer at the All England Club, where she won her fifth Wimbledon title a month ago.
It took the No. 3-seeded Sharapova 45 minutes to win a game, and by then she trailed 6-0, 3-0. Williams dominated with her serve and repeatedly blasted winners from the baseline, taking a big swing with almost every stroke despite the windy conditions on Centre Court.
Williams said the tournament was the best she has played from start to finish.
"I was so focused here," she said. "I remember I was serving and I was thinking: 'Serena, this is your best chance to win a gold medal. You're at Wimbledon, you're on grass, you play great on grass, pull it together, just win this.' And that's what I thought about."
The career Golden Slam was first achieved by Steffi Graf, who did it when she won at the Olympics in 1988 after sweeping all four major titles.
"Growing up watching her, I always liked her," Williams said. "Having a chance to be mentioned in the same name -- I always thought, OK, one person I'll never be mentioned in the same name is Steffi Graf. She's done everything."
Williams can add the gold medal to her 14 Grand Slam singles championships, the most of any active woman. She's the first player to achieve a Golden Slam in both singles and doubles.
And she's not done in London. Williams and her sister Venus, pursuing their third gold in doubles, were scheduled to play in the semifinals later Saturday.
Sharapova completed a career Grand Slam in June by winning the French Open, but Williams beat her for the eighth consecutive time. The most one-sided previous women's final was in 1920, when Suzanne Lenglen of France beat Dorothy Holman of Britain 6-3, 6-0.
Top-seeded Victoria Azarenka of Belarus won the bronze by beating No. 14-seeded Maria Kirilenko of Russia 6-3, 6-4. Sharapova's loss allowed Azarenka to retain the No. 1 ranking.
Roger Federer will try to complete a career Golden Slam when he plays Andy Murray of Britain in the men's final Sunday.
Williams took charge of the final from the start, sweeping the first eight points. The crowd wanted to see a contest and saved its biggest cheers for the rare occasions when Sharapova won a point.
Mostly she was lunging or whiffing as the ball whizzed past, or caught off-balance trying to block back shots at her feet. Williams finished with 10 aces, 24 winners and only seven unforced errors.
"She's playing incredibly confident tennis," Sharapova said. "Her shots were very powerful."
There was no giving up by the Russian, one of the most dogged players on the women's tour, but there was no letup from Williams.
"Against Maria, if you give her any hope, she's trying to come back," Williams said. "She won that one game and I could see her pumping her fist, and I was like, 'Oh boy, here she comes.' It was really important for me to almost go out there and just do everything."
When Williams ripped a return winner for a 2-0 lead in the second set, she screamed "Come on!" as if trying to jump-start her game.
She had a similar outburst two games later after whacking a winner to erase a break point, one of only two she faced. She was broken just once in the tournament.
At 15-15 in the final game, a spectator shouted, "Don't give up, Maria."
One point later, someone else hollered, "Maria, I still want to marry you."
Soon Williams closed out the victory with her 60th ace of the tournament, then let out a long scream. After shaking hands with Sharapova, Williams hopped a dozen times on the grass she loves, waved and then hopped some more.
Williams was still hopping as she put on her Team USA jacket for the medal ceremony. Then she began to dance.
"I don't think I've ever danced like that," she said. "I don't even know where the dance came from."
Top-seeded Bob and Mike Bryan also won Olympic gold for the U.S., beating Michael Llodra and Jo-Wilfried Tsonga of France 6-4, 7-6 (2) in the men's doubles final.
Roger Federer will try to complete a career Golden Slam when he plays Andy Murray of Britain in the men's final Sunday.
Other Olympic events
LONDON (AP) -- Oscar Pistorius made his anticipated debut, and the "Blade Runner" quickly made himself at home.
Pistorius, a double-amputee who runs on carbon-fiber blades, finished second in his 400-meter heat to earn a berth in the semifinals Sunday night. He finished in a season-best time of 45.44 seconds in front of a sellout crowd at Olympic Stadium.
"I've worked for six years ... to get my chance," said the South African, who became the first amputee to compete on the track at an Olympics. "I found myself smiling in the starting block. Which is very rare in the 400 meters."
As expected, Usain Bolt advanced to the 100-meter semifinals. But there was no sign of the dazzling talent that dominated the Beijing Games.
Bolt won his race in 10.09 seconds despite struggling to get out of the blocks. His reaction time ranked sixth of the eight runners in his heat.
"I stumbled on the start," the 25-year-old Jamaican said. "I really didn't do a lot of executing."
Yohan Blake, Bolt's teammate and training partner, was sharp in his Olympic debut, winning his heat in 10 seconds flat. Tyson Gay, Asafa Powell and 2004 Olympic champion Justin Gatlin also moved on.
While the sprint stars all advanced with relative ease, the U.S. men's basketball team was pushed -- and then some.
Two days after running and gunning to a record-shattering 83-point win, the United States needed a strong finish from LeBron James to eke out a 99-94 victory over Lithuania.
The Americans trailed 84-82 with 5:50 to play, but James scored nine of his 20 points in the final four minutes to help the U.S. remain unbeaten.
"You want to get tested. The best teams want to be tested. We love the competition," James said. "I think we've got some of the greatest competitors in our league, in this world, so you want to have a game where you feel like you were tested, and we had that today."
Carmelo Anthony also had 20 points for the U.S. (4-0), which looked nearly invincible in thrashing Nigeria 156-73 on Thursday night and breaking several records.
Linas Kleiza scored 25 for Lithuania, which shot 58 percent and outrebounded the U.S. 42-37.
Also Saturday, a dozen people opposed to the Syrian government staged a small demonstration to protest the presence at the Olympics of a Syrian equestrian rider whose father is under U.S. sanctions for supporting President Bashar Assad.
Ahmad Saber Hamsho told The Times of London in June that the Assad regime was "only protecting people from guys with weapons." Rebels have fought the regime for 17 months in an uprising that has claimed 19,000 lives and turned into a civil war.
Hamsho competed in the show jumping individual qualifier event, producing a clear round on a horse called Wonderboy. Protesters outside the gate at Greenwich Park handed out leaflets and "Freedom for Syria" stickers.
Hamsho said he was representing the country, not anyone in particular, in the equestrian ring. He said he didn't want to talk about Syrian politics and dismissed the protesters as "totally stupid."