At North High, freshmen mark a new beginning
Two years ago, North High School nearly shut down. Community groups rallied to save the school. Now it's starting over with smaller classes and a focus on getting students ready for college. But recruiting students to the new school remains a challenge. 
The arrival of this fall's freshman class marks the beginning of a transformation for this Minneapolis high school.
Small classes are the norm for freshman at the new North High School. In this algebra class, for instance, there are 17 students here, and two teachers.
"We try to make sure the kids stay on track, that they turn in all their assignments, that they don't fall too behind," says one of those teachers, Warsame Warsame.
For students accustomed to classrooms twice as full, the smaller classes come as a relief.  
In middle school it was common for nearly 40 students to share just one teacher, said Mahommed Moses, 14.
"If there's a whole bunch in a class you're not going to get as much individual work with the teacher.  But (here) you do, because there's only like 10 or 12 kids in one class," Moses said.
One reason the class sizes are so small is because the school is still working to enroll more students. But school officials say even if they hit their goals, they'll remain committed to smaller than normal class sizes of 20 to 25 students.
There's also a commitment to provide more advising and counseling for students, a focus on preparing students for college and an expectation that parents and guardians will be more engaged. District officials hope these changes translate into improved overall test scores within two years.
With this new mission comes a new name: North Community High School Academy of Arts and Communications.  
Right now, the school is made up of only freshmen. As students make their way up through the grades, the old North High School, now called North High Senior Academy, will be phased out.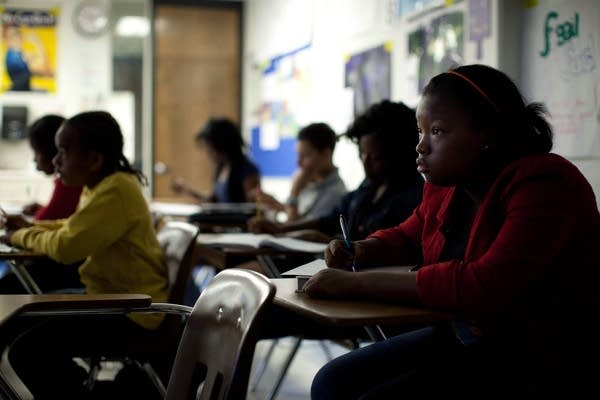 The new North High is nothing short of a complete reboot.  
"I think students are quickly realizing that this is something new and this is something different and they're starting to really appreciate what they have here," said Shawn Harris-Berry, who serves as principal of the new North High School.
Two years ago the school faced falling enrollment, a graduation rate of less than 50 percent and test scores that were near the bottom in state rankings.
That's when Minneapolis Public Schools superintendent Bernadia Johnson announced plans to close North High School. 
Community groups opposed the move, rallied to save the school, and Johnson changed her mind. 
The district began working with the Institute for Student Achievement, a national group that manages the turnaround of failing schools.
"It's going to take time to win over students and parents who were scared away when the district threatened to close the school down just two years ago."
With its new emphasis on teacher and student interaction, one might think students and parents would be eager to enroll. But so far the school has enrolled only 61 freshmen, far short of its goal of 100, and far fewer than nearby Patrick Henry High School with a freshman class of 260.
Brett Buckner, a community member who fought to keep the school open, warns its going to take time to win over students and parents who were scared away when the district threatened to close the school down just two years ago. 
"That's a Herculean task," Buckner said. "To really start to change peoples' mindset. To say, 'Hey look. This whole thing is going in the right direction. Now all we need is you.' "
District officials expect to continue to enroll freshman as the school year progresses.
Mark Bonine, an associate superintendent with the Minneapolis Public Schools district, hopes current students will spread the word about the school and help bring in more students next year.
"I think the first year is a really big year.  Then I think naturally once they've been through a year, they're talking to their brothers and sisters and community members, it makes recruiting that much easier," Bonine said.
Because fewer students enrolled than expected, per-pupil costs are about 40 percent higher than at comparable schools.  District officials say they hope 500 students are enrolled in grades 9 through 12 within four years. If they can hit that goal, it will cost about as much to teach a student at the new North as it does at other Minneapolis schools.
Gallery
1 of 1