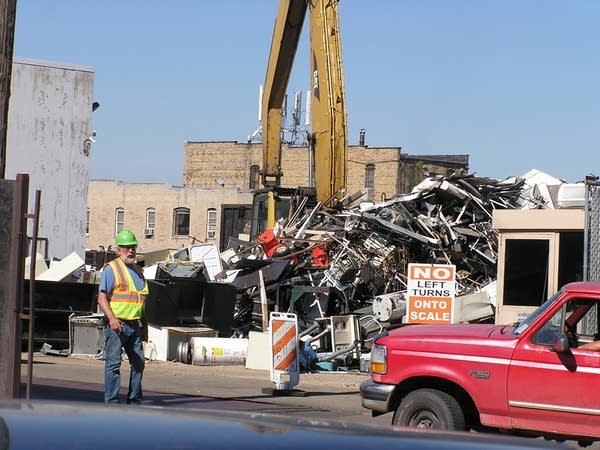 The Minnesota Pollution Control Agency will vote Monday on whether to require an environmental impact study for a north Minneapolis metal shredding company that wants to increase emissions. Over the objections of some neighbors and several concerned agencies, the MPCA staff has recommended against the impact study.
The MPCA received a slew of letters asking for a full environmental impact study on the increase in air emissions requested by Northern Metals.
Among those expressing concern were individual residents, neighborhood councils, state representatives, the National Park Service, the Minneapolis Park and Recreation Board and the Minneapolis City Council. They questioned the increase in particulate and mercury emissions, toxic carcinogen air pollutants and so-called fugitive dust.
Jeff Smith, the head of the MPCA's industrial division, said the staff cannot arbitrarily order an environmental impact study, which Northern Metals would have to pay for. He said such a study is justified only when there is the potential for significant environmental impact. And Smith said in this case, there is not.
"From our perspective, we've done many, many hours of modeling, running and rerunning those numbers," Smith said, "and so we're comfortable with the assessment that there's no potential for significant effect."
Opponents of Northern Metals' request see the situation differently.
"To us, Northern Metals does not have to up their pollution. I mean, they don't have to," said Karen Monahan, the environmental justice coordinator for the local Sierra Club chapter. "This is a choice. But what if that choice just to up it just a little bit, impacts one child ... [or more] children. That's too much for us."
Northern Metals, which did not respond to calls for comment, paid a penalty for exceeding its air emissions permit in 2010. That's when the company started working with the MPCA to create a permit that Northern Metals could adhere to.
The company wanted the permit to allow emissions that could have pushed the area's air quality past the newest federal standards. The MPCA said it would need to do an environmental impact study. Several months passed until Northern Metals filed a lawsuit and a judge ordered the MPCA to expedite the process.
Smith of the MPCA said that in negotiations since then, Northern Metals has agreed to lower its emissions request. And now Smith said the modeling shows the region's air quality will stay within federal standards, although the agency does not yet have an air quality monitor in the area. The MPCA also met with two other local emitters, and those businesses voluntarily agreed to try to decrease their emissions.
"By working with the companies, it doesn't mean that we always are in agreement," Smith said. "It just means we are striving to reach consensus and apply the appropriate rules, appropriately."
The revised emissions request has the support of the Northern Metals employees' union and the Metropolitan Council.
Smith pointed out that Northern Metals has more and better monitoring equipment than required and that the company is being held to a higher standard than any other facility in the state. He said that of the roughly 18,000 permits issued by the MPCA every year, only a couple go through the process of a full environmental impact statement.
The Sierra Club's Monahan said in this case the MPCA board should also remember it would be increasing pollution in a poor, predominantly African-American area that is already home to a cluster of industrial emitters.
"Do you know what environmental racism is?" she asked. "How come there's nobody on your board that is a person of color? How can you make decisions for our community when your children don't live here and you don't see what we struggle with day to day?"
In response, Smith said the MPCA board has a history of listening carefully to comments and adjusting permits.
"My experience has been, they've been a very engaged and interested group of folks," he said.
The MPCA board will decide shortly whether to further study the situation or put Northern Metals' permit on a path to approval.