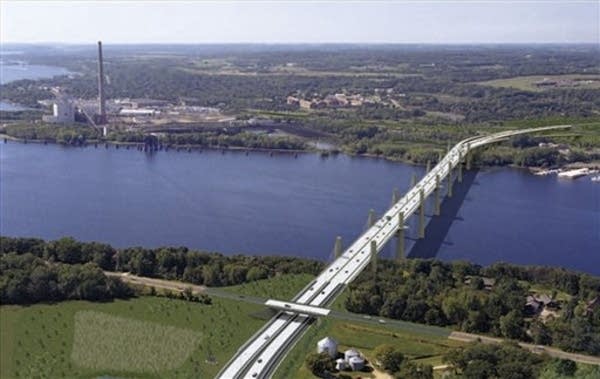 The Minnesota Department of Transportation says it's moving up the start of work on a new bridge over the St. Croix River.
Pier work will start next spring, rather than in 2014, according to project director John Chiglo. He said that test borings of the riverbed this summer indicated that crews will have to drill fewer and smaller shafts to hold the bridge piers.
"All of those things are good things," Chiglo said. "They reduce the time of construction, they reduce our footprint environmentally, and that's all driven by this load testing program that we performed over the summer."
He also said that the testing helped finalize the design of the bridge, and eliminate some of the foundation work altogether. The longest spans were originally scheduled to be about 480 feet long, but engineers now think they can go longer.
"Through our optimizing of our design, we were able to increase those spans to about 600 feet and eliminate a pier in the water and two towers. One tower in the water and one tower that was on the shoreline," Chiglo said. "We're down to five towers, all five towers will be in the river."
It isn't clear what the early start will mean for the overall project, currently scheduled to be complete in 2017.
MnDOT spokeswoman Mary McFarland Brooks said that part of the change is a separation of the contract for the foundation work from the contract for the superstructure of the bridge.
She said the early start on the underground work will reduce potential scheduling conflict with the bridge and foundation work, and will allow for unforseen delays — which are likelier with all of the piers now expected to stand in the St. Croix River, where work will be more difficult.
McFarland Brooks said her agency will have a better handle on a completion date when planners know better how the foundation work is proceeding under the river.
The new St. Croix Crossing, a joint project between Minnesota and Wisconsin, is scheduled to replace the 80-year-old Stillwater Lift Bridge. The new bridge will be downstream, joining St. Joseph, Wis., and Oak Park Heights, Minn. The total project, including miles of new four-lane highway, is expected to cost between $580 million and $676 million.
• Follow Tim Nelson on Twitter: http://www.twitter.com/timnelson_mpr