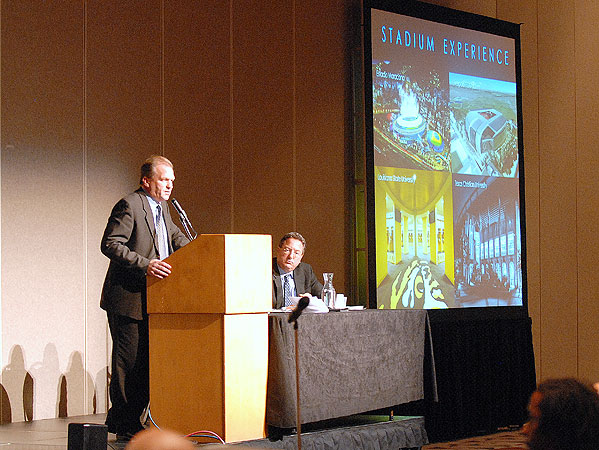 A ballroom full of people in Minneapolis last night offered their two cents to the billion-dollar stadium in the works to replace the Metrodome. It was the first stop on what HKS, the stadium's designers, are calling a listening tour. They heard that Minnesotans are expecting a lot from the new stadium, which is expected to open in 2016.
Closed captioning for the jumbo scoreboard replays, more elevators, real grass, purple seats: Those are just some of the items on fans' stadium shopping list at the Minneapolis Convention Center.
There was little doubt though, what was at the top of the agenda: a retractable roof for open air football.
"We want to be able to smell the barbeque ribs when we're inside, from the tailgaters," said Larry Spooner, the purple clad, so-called "superfan" who led cheers for the stadium at the Capitol this spring.
• Photos: The stadium designs that won't be built
Others, like 26-year Vikings season ticket holder Jeff Jackson, of Coon Rapids, had some more esoteric suggestions for the stadium designers.
"It would be fantastic to have a Vikings ship in the end zone, a-la Raymond James stadium," the home of the Tampa Bay Buccaneers, Jackson said. "They have the pirate ship. We have the Vikings heritage, and it would be fantastic to have a Viking ship in our stadium."
A lot of the discussion last night wasn't about football -- even though the Minnesota Vikings are the biggest single contributor to the stadium's financing. They're putting up about $480 million toward the billion-dollar cost.
Suggestions came from in-line skaters and high school baseball coaches and more. Many are users of the Metrodome who don't want to be shut out of the biggest indoor space available in one of the coldest climates in the country.
Brent Turner runs the Youth in Music championships that brought 20 marching bands to the Metrodome last weekend. He said he'd like to keep bus parking nearby, and that the Dome is woefully inadequate for trade expositions like his -- because it doesn't have enough power outlets.
And he also thinks a possible plan to cover the stadium with swooping, ribbon-like roof panels is a great idea.
"What that brings, beyond the artistic value, is something that will absorb sound in a much different and better way," Turner said.
High school baseball booster Tink Larson offered another perspective: Making sure the facility could handle baseball, because if it's like the Metrodome, it could host 10 times as many baseball games as football games.
"We're very concerned about the facility that would include a baseball field and the proper amenities, proper size, fence distances, dugouts, bullpen areas," he said. "Talk about a scoreboard up in the middle of the field, if that would be able to be raised so that line drives, foul balls wouldn't hit that."
Others said the new stadium should continue to host running, in-line skating and golf shows -- and not be so crowded.
"I just want to make a plea that we become the first stadium in the history of the universe to have enough legroom that you don't have to stand up every time somebody needs to leave for a beer," said Lynn Garthwaite, who said she writes children's books.
Even some deaf Minnesotans weighed in on the new stadium. Dann Trainer is the president of the Minnesota Association of Deaf Citizens, and spoke through an interpreter.
He said displays and scoreboard video should be close-captioned "so the deaf and hard of hearing consumers can follow. It's the same with old people. If they can't hear what's going on, they'll be able to look at the captions. It's a universal design concept. Accessibility for all."
Margot Imdiecke Cross of Minneapolis said the stadium should be built to accommodate people in wheelchairs, not just with ramps or some handicapped entrances.
"We don't want 50-percent accessible entrances, we want them to be all accessible," Corss said. "We can do it in the design stage for no additional money. We just design 'em in."
Project programmer Mark Williams showed some new renderings of what HKS is considering.
"We know there are a lot of things that happen in here. Some are very obvious, like NFL football games, and others aren't," Williams said. "You know, somebody talked about skating in the Metrodome. So, we look at all this stuff, and try to understand how the citizens are going to use this project, and then figure out how the design process can layer with that and implement all the needs and requirements that are out there."
The Minnesota Sports Facilities Authority is planning at least three more meetings to hear out suggestions about a new stadium, including stops in Duluth, Rochester and another yet-to-be scheduled session in the Twin Cities area.
The stadium architects said they hope to have the first conceptual drawings of a final design read to unveil early next year. The project is set to break ground by next fall.
---
HKS Implementation Presentation
• Follow Tim Nelson on Twitter: http://www.twitter.com/timnelson_mpr