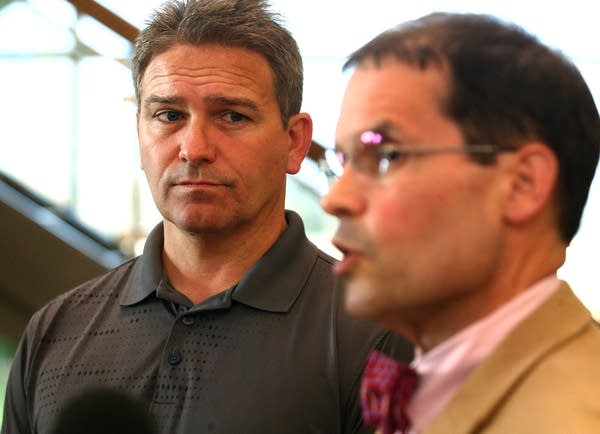 A Blue Earth County judge heard arguments Wednesday afternoon over a defense request to drop pornography charges again Todd Hoffner, the football coach at Minnesota State University, Mankato.
Prosecutor filed the charges against Hoffner in August when technology employees at the university found videos, taken on Hoffner's university-issued cell phone, of his children, all under the age of nine, dancing naked.
Hoffner spoke publicly for the first time in the courtroom, testifying that he took the videos of his children at their request.
Hoffner said the kids asked him to record a skit they had rehearsed for him. He said it's not unusual for his children to take baths together, and he and his wife are comfortable having their children naked around the house.
He said he didn't think there was anything inappropriate with the videos, and he didn't look at them again after filming them.
Hoffner's attorney argued that the videos were innocent family moments and not pornography. He called several witnesses who testified there is no evidence the Hoffner children were abused.
Blue Earth County assistant attorney Mike Hanson offered the videos as evidence to support the pornography case. He argued that adults should not make movies of children in the nude, and that the videos Hoffner recorded are indeed pornographic.
The judge asked attorneys on both sides to submit written arguments on the question of whether the charges against Hoffman should be dismissed. It will likely be mid-November before the judge rules on that question.
Hoffner has been on paid adminstrative leave from his coaching position until the case is resolved.