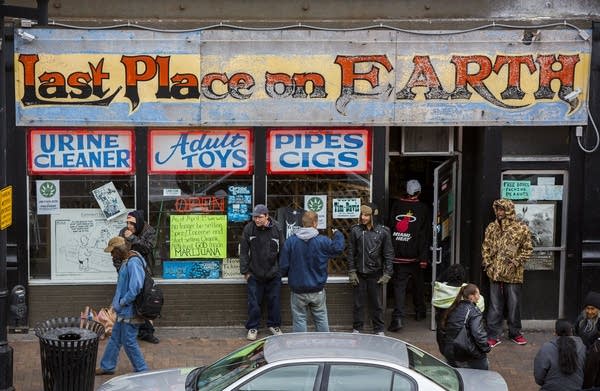 The city of Duluth asked a county judge Friday to shut down the controversial business Last Place on Earth.
The city argues the downtown head shop has created a public nuisance by selling synthetic marijuana.
The St. Louis County Courthouse was crowded with both supporters and critics of the business and its owner, Jim Carlson. Duluth Chamber of Commerce President David Ross organized a group of about 50 downtown business owners to show their opposition to Last Place on Earth.
"Hopefully the judge saw what a concern this is and what a consistent concern it is for the business community," Ross said.
Business owners have long complained about the throngs of Carlson's customers who gather daily outside his shop. But Carlson also mobilized his own, more vocal, supporters.
"We love you Jim!" a woman yelled.
Carlson's attorney Randall Tigue argued the state's nuisance statute is unconstitutionally vague.
"Giving to the city and giving to the courts the power to shut down anything that a minority of people decide offends their morals, comfort and repose, that power is a far greater threat to society than synthetic marijuana will ever be," Tigue said.
County Judge Shaun Floerke appeared skeptical of the city's request. He asked how a judge could prevent the sale of synthetic drugs, when it's something the state and federal governments haven't been able to do. A decision isn't expected until after Thanksgiving.
• Follow Dan Kraker on Twitter: http://twitter.com/dankraker