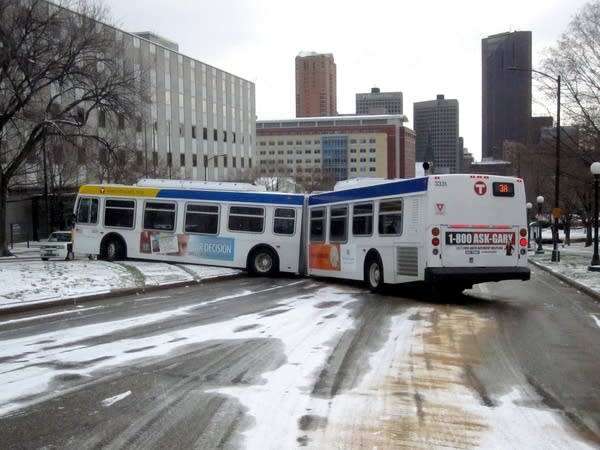 The snowfall that paralyzed Monday morning's commute also resulted in about 20 minor bus-related accidents in the Metro area, but no injuries.
"Most of the accidents today actually were automobiles sliding into buses, but a few did involve buses sliding into objects or going over curbs," Metro Transit spokesperson John Siqveland said.
He said Metro Transit drivers are trained to deal with snow and ice conditions through driver mentorships and winter driving trainings.
Metro Transit also prepares for winter weather by monitoring bus traffic from a transit control center. When a bus is involved in an accident or breaks down, supervisors dispatch extra buses to the route.
"When winter weather is on the way, there will be extra precautions that are taken in terms of notifying additional drivers, having extra drivers on call, having extra buses prepared to go on the street, having extra supervisors on staff," Siqveland said.
During the peak of Monday morning's rush hour, there were about 720 buses on the road in the Metro area. Siqveland said about 40 percent of those morning buses ran late Monday and five buses got stuck. By Monday evening, only 5 percent of buses were running an average of about a minute late.
Siqveland said that Metro Transit's light rail operations were not affected by Monday's weather.