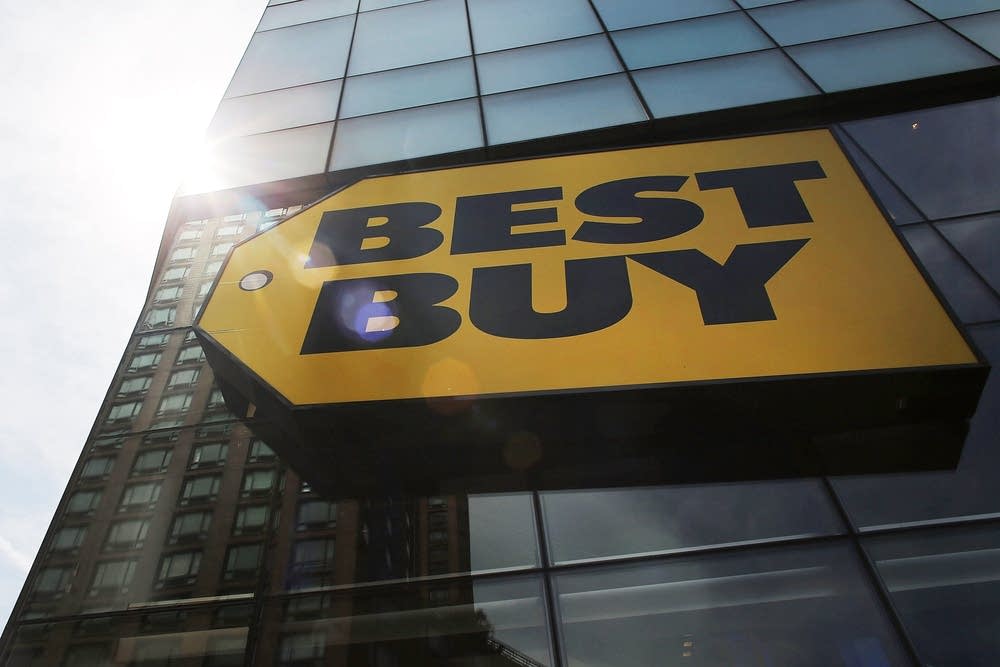 Best Buy officials had warned investors that its revenue and earnings report would be disappointing. Tuesday's sell-off indicates investors found the actual numbers far more dire than the warning.
Best Buy's stock took a pounding today, plummeting 13 percent to just under $12 a share.
The company reported dismal sales and profits for the quarter that ended Nov. 3, and it's $13 million net loss for the quarter stands in contrast to $173 million in net income the same quarter last year.
The retailer did not offer Wall Street much reason for optimism as the consumer electronics giant heads into the critical holiday shopping season this week.
In a conference call with analysts, CEO Hubert Joly said the company performance was not satisfactory and vowed there will be an eventual turnaround.
"I know this will be hard road," Joly said. "And I look forward to successfully tackling our challenges."
But Wall Street's reaction shows investors don't share Joly's confidence.
"Today's news was obviously much worse than most people expected... It's just not a good recipe for a retailer."

Brian Yarbrough, retail analyst
"Today's news was obviously much worse than most people expected," said Brian Yarbrough, a retail analyst with Edward Jones. "They can't gain any sales. You continue to see margins decline and costs going up. It's just not a good recipe for a retailer."
Revenue in stores open at least 14 months continued to slide, falling 4.3 percent for the quarter. That important gauge of financial health has now dropped for nine consecutive quarters.
Yarbrough was not encouraged by the outlook Best Buy executives offered for the current quarter.
"All they would say about fourth quarter is, 'We don't expect the same kind of profit decline,'" Yarbrough said. "Well, I would hope not."
During the conference call, Best Buy executives touted their decision to give employees discretion during the holiday shopping season to match the prices of Amazon and other online competitors. Executives said there should be a payoff from employee training.
But Morningstar analyst R.J. Hottovy was unimpressed.
"It's tough to get a lot of confidence, when there are so many moving pieces in this business right now," he said.
Hottovy expects Best Buy's profits will further evaporate if it aggressively matches online rivals' lower prices.
"I don't see any real way that they're going to be able to offset the gross margin rate pressures that come along with price matching," he said. "And to really compete in this industry, the company is going to have to sacrifice profitability."
Best Buy estimates it captures about 7 percent of online consumer electronics sales but figures Amazon gets 21 percent. But Best Buy figures it gets about 18 percent of consumer electronics and appliance sales made in brick and mortar stores. It's leading Walmart, but not by much.
BUYOUT STILL TAKING SHAPE
The sales and earnings report comes as Best Buy's founder and biggest shareholder, Richard Schulze readies a possible buyout offer. Schulze wants to take the company private to try to revitalize it.
Schulze is widely expected to submit a buyout proposal for Best Buy next month. Any new bid is likely to come in well below Schulze's initial proposal of $24 to $26 per share, made in August.
Best Buy should have said accepted back then, said retail consultant Howard Davidowitz.
"He was the only one who could put something together that would fix the problem, in my mind," he said.
Davidowitz said no one else can match Schulze's knowledge and connections in the consumer electronics industry.
But given Best Buy's declining state, Davidowtiz wonders if Schulze can find the investors and lenders he needs to raise the billions of dollars required to acquire Best Buy. Schulze and his partners would likely have to put more of their own money into a deal than they initially expected because lenders are likely to get balky.
"The lenders are going to demand more and more equity," Davidowitz said. "And they're going to offer to lend less and less. And that's going to make this deal more and more difficult to do. So, I don't know if he can do the deal anymore.'"
A spokeswoman for Best Buy says its dealings with Schulze are ongoing and the company will provide an update when and if appropriate. A spokesman for Schulze did not respond to a request for comment.