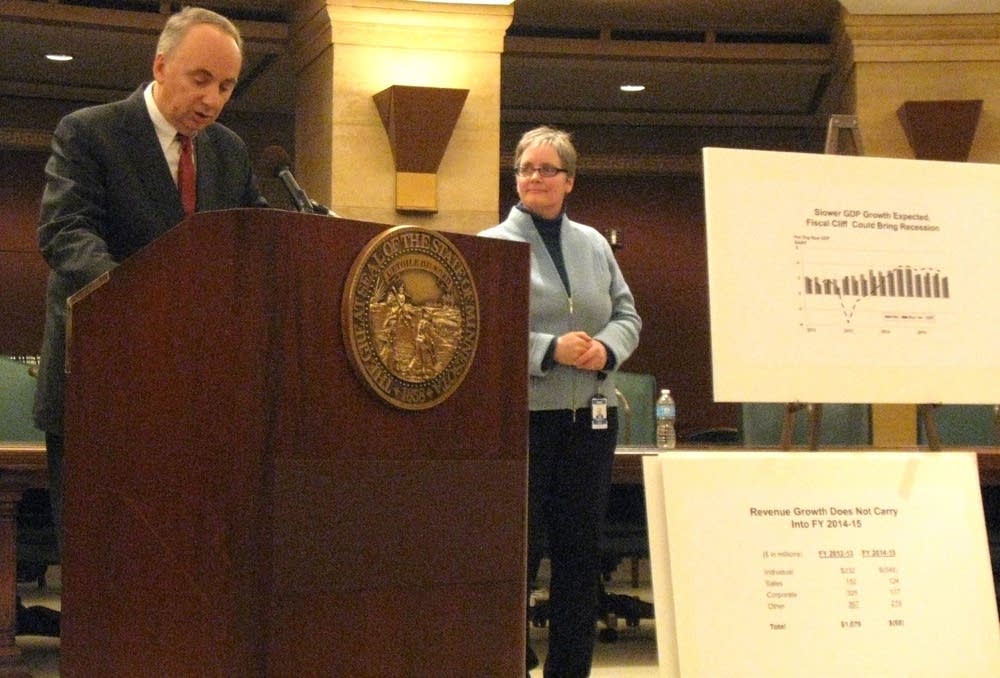 This was the first year that Minnesota's top number crunchers provided two versions of their economic projections.
One forecast showed more of the same tepid economic growth that has been the hallmark of this recovery. Next year, they estimate that employers in Minnesota will add about 50,000 jobs — not many more than they'll likely add this year.
That's the optimistic forecast.
In the pessimistic forecast that weak growth of 50,000 jobs would shrink to a flimsy 5,000. Looking further, between now and the end of 2014, the state would lose out on a total of 70,000 new jobs.
This gloomy message is courtesy of the fiscal cliff.
"The fiscal cliff is real and it's the most important damper on the economy we can see," said Tom Stinson, chief economist for the state.
Stinson said under the fiscal cliff scenario, higher taxes would cause consumers and businesses to retrench and push the nation back into recession at the beginning of 2013.
"The fiscal cliff is real and it's the most important damper on the economy we can see."

Tom Stinson, Minnesota state economist
Stinson said the recession would likely linger through most of next year. In Minnesota, unemployment would spike to 7.1 percent from its current 5.8 percent. Personal income would plunge.
Large portions of Stinson's projections come from the forecasting firm, Global Insight, which has assigned 20 percent probability to the fiscal cliff scenario — not enough to merit an alternate state budget forecast.
Stinson explains his seemingly pessimistic outlook on previous events unique to Minnesota, such as last year's government shutdown.
"Your perception of how likely it is that we go over fiscal cliff is conditioned on experiences, and in Minnesota we've gone through a state government shutdown and Global Insight hasn't gone through the same experience," Stinson said.
Stinson is not the only person to base worries on past trauma.
Chelli Esser's husband lost his job a few years ago. Although they're both working now, the couple has little savings they can tap to cover daycare for two young kids and a mortgage on their house in Golden Valley.
Esser said if her family's taxes go up because of the fiscal cliff, they will be in a financial bind. So, they're taking precautions.
"Just knowing we might not have the cash flow to make it month to month, we've taken out a line of credit," Esser said.
But she is unsure exactly how much their taxes might increase.
"Does our new credit cover at least that much so we can make ends meet through the end of the year. Does one of us need to go out and find a higher-paying job? Being that it's unknown, that's what makes it so scary, I guess," Esser said.
Stinson finds this kind of uncertainty worrisome for the state's economy. But within the gloom he finds a little humor and admits that by prophesying a possible recession, he and other state officials could spook consumers like Esser into not spending — the very reaction that leads to recession.
But there's a way to avoid the damage of such grim prognostications: not go over the fiscal cliff. Stinson said if the cliff is avoided, growth next year could actually be better than he forecasts, returning consumer confidence and releasing pent-up demand.
• Follow Annie Baxter on Twitter: http://twitter.com/baxtermpr