Top state officials have declined to approve the sale of 31 leases to explore for minerals, pending the results of a court case.
During a meeting Thursday of the state's executive council, Gov. Mark Dayton also scolded state Department of Natural Resources officials for failing to respond to public concerns about proposals for copper-nickel mining in northeastern Minnesota.
Last summer the department announced a routine lease sale, in which companies can pay the state for the right to explore for copper, nickel, gold, palladium, and other valuable minerals in north east Minnesota. Some of the mineral deposits are under privately owned land.
About 170 landowners in northern Minnesota then petitioned the agency to study the possible effects of the lease sales before holding them. One of the landowners made detailed maps that showed trout streams, wetlands, and other sensitive resources near some of the lease areas.
DNR officials went ahead with the sale, and later denied the petition. The group appealed the decision to the Minnesota Court of Appeals.
"I can almost guarantee that there are some sensitive resources on some of those acres, but we have no idea where the mining companies propose to put a drill."

Tom Landwehr, DNR commissioner
For the sale to take effect, the governor, lieutenant governor, secretary of state, state auditor and attorney general must approve it.
During their meeting Thursday, Dayton pulled no punches when he urged DNR officials to better inform citizens and listen to their concerns. The governor said people are used to iron mining, but have questions about copper-nickel mining.
He warned DNR officials that they should not rely on rules that work for taconite mining but may not address worries about copper-nickel mining.
"You're going to stir up more trouble, more controversy, more opposition," Dayton said, adding that the agency is exacerbating the problem by not doing a study.
Dayton said DNR officials need to "bend over backward" to be open about their plans and policies.
DNR Commissioner Tom Landwehr defended his agency's handling of the lease sales, which he said were in accordance with its rules. Landwehr said the agency denied the petition because it can't complete an environmental assessment worksheet, or EAW, on a lease sale, because there is no specific project to study.
"I can almost guarantee that there are some sensitive resources on some of those acres, but we have no idea where the mining companies propose to put a drill," he said. "I understand that people are concerned, and we're trying to make sure that people have an opportunity to plug in when there's an appropriate time to plug in. In my humble opinion, Governor, in my respectful, humble opinion, this is not the point at which we can do an EAW."
Landwehr said the agency decides whether to do an environmental review when the company submits its exploration plan. If there are trout streams, wetlands, or other sensitive resources, the agency places limits on what the company can do.
But Paula Maccabee, an attorney representing one of the landowners, said a lease sale leads indirectly to possible environmental effects, and should be studied in advance.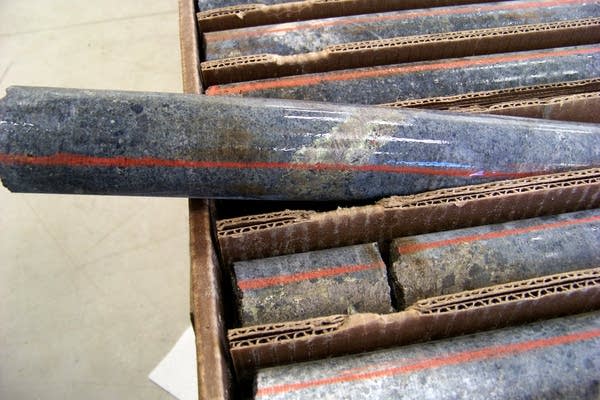 "Because once the leases are sold, the DNR can't go back and say 'oops, we shouldn't have sold you that one because it's right on top of a trout stream,' " Maccabee said. "That's a legal contract, and it's done."
Even the Executive Council can't cancel a lease sale based on environmental concerns, she said.
In the end, the council voted to delay approval of the lease sale until after the court rules on the petition.
Dayton promised to meet with Landwehr and the petitioners to discuss ways to meet their concerns under existing rules. Meanwhile, he said, the Legislature is the best place to change the rules.
• Follow Stephanie Hemphill on Twitter: http://www.twitter.com/mpr_hemphill