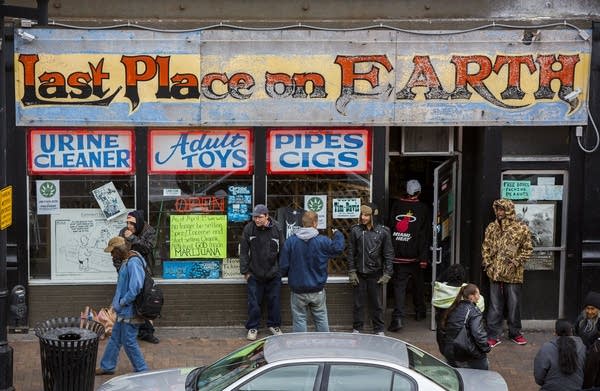 The owner of a Duluth head shop and three workers have been charged in a 54-count indictment accusing them of violating federal drug and regulatory laws.
Jim Carlson, owner of Last Place on Earth, made his initial appearance in federal court in Duluth Tuesday.
The colorful Carlson has so far thwarted local, state and federal attempts to crack down on the sale of synthetic marijuana and other so-called designer drugs. But officials in Duluth hope these charges will stick.
FEDS MAKE THEIR CASE
The scruffy crowd that lines up daily outside the shop to buy synthetic pot has drawn lots of complaints from neighboring businesses. The city of Duluth, as well as the state and federal governments, have all passed laws attempting to stop the sale of synthetics.
But so far, the companies making the stuff have been able to stay one step ahead of the laws by slightly tweaking their chemical formulas.
Jeanne Cooney, a spokeswoman for the U.S. Attorney's Office in Minneapolis, said this case could put a stop to that. It relies on a 1986 law designed to prohibit the sale of drugs that mimic illegal substances, known as "analogues."
"The analogue act actually criminalizes drugs that have chemical structures similar to a controlled substance, if in fact those designer drugs have similar effects," Cooney said.
Cooney said this analogue act has been used very infrequently, and she said it's very difficult to prosecute based on that law alone. Cooney said the indictment unsealed Tuesday also accuses Carlson and the other defendants of selling products that were intentionally mislabeled.
"This is a case where the federal government is alleging in effect, that hey, you misbranded these designer drugs by calling them everything from potpourri to glass cleaner, knowing full well what they were were, knowing they were meant for human consumption," Cooney said.
And the indictment alleges Carlson did that to evade federal drug laws.
"And as a result, you not only broke the law, but you endangered the health and safety of a lot of people," she said.
SHOP OWNER TO FIGHT CHARGES
The not normally shy Jim Carlson was advised by his attorney Randall Tigue not to speak to the news media Tuesday. Tigue said nothing in the indictment surprised him, and said they will vigorously fight the charges.
"We think, first of all, the analogue law is plainly unconstitutional, because it doesn't give fair notice of what's prohibited," Tigue said.
Tigue also said the charges that Last Place on Earth mislabeled items meant for human consumption in order to mislead the government have no basis.
"Generally, the labeling requirement is not the retailer's responsibility, it's the manufacturer's responsibility," Tigue said. "We'll do appropriate challenges to all these in the pre-trial motions."
This federal indictment is just the latest legal attempt to stop Carlson's sale of synthetic drugs. Just last month, Tigue was in county court in Duluth, defending his client against nuisance charges brought by the city of Duluth.
Mayor Don Ness said the city has worked for two years trying to put a stop to Carlson's sale of synethic drugs. He said city officials have wanted the federal government to bring its clout to the case.
"Because without the feds' involvement, we'd likely be going back and forth on local ordinances, and that won't bring this to a head, because there's so much money involved," Ness said.
Carlson claims synthetic drugs have made him a millionaire many times over. Ness said those profits have funded his legal defense, which he said has kept him in business this long.
Jeanne Cooney with the U.S. Attorney's Office said this case has "real potential" for stopping the sale of synthetic drugs in Duluth and around the country. Carlson's next court appearance is Friday, when he'll enter his plea.
• Follow Dan Kraker on Twitter: http://twitter.com/dankraker
Last Place on Earth Indictment