Survivors of the Interstate 35W bridge collapse in Minneapolis may be able to keep a piece of scrap steel as a reminder of the historic event. State transportation officials say they will soon determine how to honor those requests, which have been made by about 30 people so far.
The bridge in downtown Minneapolis collapsed in 2007, killing 13 people and injuring another 145. The incident was the subject of years of litigation. But the legal battles are now over, which means the wreckage of the bridge won't be needed for evidence.
Normally, the state sells bridge salvage materials for scrap, according to MnDOT spokesman Kevin Gutknecht.
"But this is a little bit different because this bridge collapsed -- a historic event," said Gutknecht. "There are a number of folks who are either survivors of the collapse or families of people who died in the collapse who are interested in getting a piece as a memento."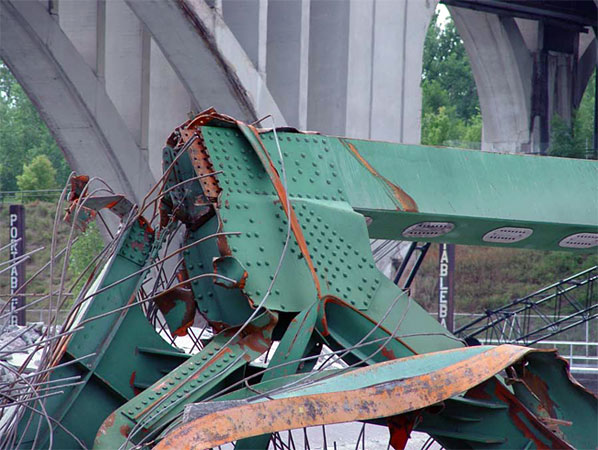 Gutknecht said other entities, including St. Thomas University, have also expressed interest in claiming some of the wreckage.
"The engineering department there, for instance, is interested in having some steel to make a memorial, a monument, as a way to remind engineers of the importance of their work," he said.
Nearly nine million pounds of steel from the bridge are stored at a MnDOT yard along Interstate 94 in Afton, and more is at a facility in Oakdale.
Gutknecht says the state is hoping to reach some agreement with surivors and others to keep the remembrances from being resold as souvenirs.