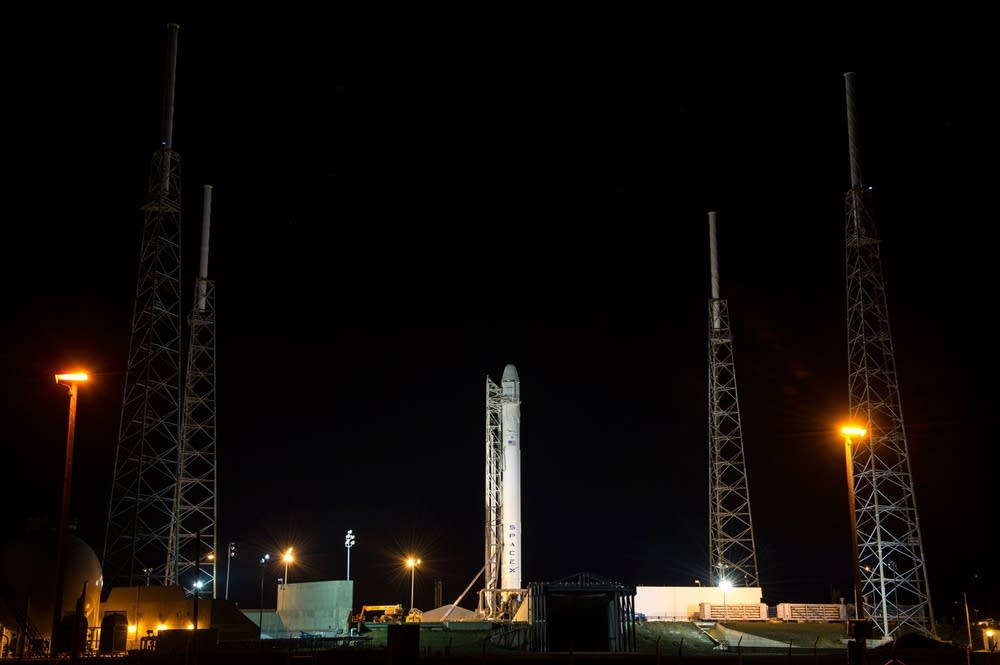 By MARCIA DUNN, AP Aerospace Writer
CAPE CANAVERAL, Fla. (AP) -- A privately owned Dragon capsule arrived at the International Space Station on Sunday, delivering a ton of supplies with high-flying finesse after a shaky start to the mission.
The Dragon's arrival was one day late but especially sweet -- and not because of the fresh fruit on board for the station astronauts who snared the capsule.
SpaceX, the California-based company founded by billionaire Elon Musk, had to struggle with the Dragon after its launch Friday from Cape Canaveral. A clogged pressure line or stuck valve prevented thrusters from working, and it took flight controllers several hours to gain control and salvage the mission.
In the end, the Dragon approached the orbiting lab with its 1-ton load about as smoothly as could be expected, with all of its thrusters, or little maneuvering rockets, operating perfectly. The capture occurred as the two spacecraft zoomed 250 miles above Ukraine.
"As they say, it's not where you start, but where you finish that counts," said space station commander Kevin Ford, "and you guys really finished this one on the mark."
He added: "We've got lots of science on there to bring aboard and get done. So congratulations to all of you."
Among the items on board: 640 seeds of a flowering weed used for research, mouse stem cells, food and clothes for the six men on board the space station, trash bags, computer equipment, air purifiers, spacewalking tools and batteries. The company also tucked away apples and other fresh treats from an employee's family orchard.
One experiment in the rocket's payload was built by students at a Minneapolis private school.
Students at Minnehaha Academy hope to study how a paint-like polymer adheres to a string, information that could be helpful for scientists studying long space flights.
Physics teacher Sam Terfa said the students had to pack a lot of equipment in a tiny package for the flight to the space station.
"Circuit board, together with a string, together with a bag full of polymer," he said. "This all fits inside of a capsule that's 2 inches by 2 inches by 4 inches."
The experiment will be returned to the students by late May, Terfa said.
The Dragon will remain at the space station for most of March before returning to Earth with science samples, empty food containers and old equipment.
SpaceX -- Space Exploration Technologies Corp. -- has a $1.6 billion contract with NASA to keep the station well stocked. The contract calls for 12 supply runs; this was the second in that series.
This is the third time, however, that a Dragon has visited the space station. The previous two capsules had no trouble reaching their destination. Company officials promise a thorough investigation into what went wrong this time; if the thrusters had not been activated, the capsule would have been lost.
Ford said everything about Sunday's rendezvous ended up being "fantastic."
"There sure were some big smiles all around here," NASA's Mission Control replied from Houston.
The actual anchoring of the Dragon to the space station, 2 1/2 hours after its arrival, also unfolded without a hitch. "The Dragon is ours!" Canadian astronaut Chris Hadfield announced via Twitter.
In a tweet following Friday's nerve-racking drama, Musk said, "Just want to say thanks to (at)NASA for being the world's coolest customer. Looking forward to delivering the goods!"
Musk, who helped create PayPal, acknowledged Friday that the problem -- the first ever for an orbiting Dragon -- was "frightening." But he believed it was a one-time glitch and nothing so serious as to imperil future missions. The 41-year-old entrepreneur, who also runs the electric car maker Tesla, oversaw the entire operation from Hawthorne, Calif., home to SpaceX and the company's Mission Control.
The Dragon's splashdown in the Pacific, meanwhile, remains on schedule for March 25.
NASA is counting on the commercial sector to supply the space station for the rest of this decade; it's supposed to keep running until at least 2020. Russia, Europe and Japan are doing their part, periodically launching their own cargo ships. But none of those craft can return items like the Dragon can; they burn up on re-entry.
Russia also is providing rides for U.S. astronauts.
SpaceX and other companies are working toward launching astronauts in another few years. Musk leads the charge; he said he can have people flying on a modified Dragon by 2015.
NASA's space shuttles, retired to museums after a 30-year run, used to be the main haulers for the space station. At the White House direction, the space agency opted out of the Earth-to-orbit transportation business in order to focus on deep space exploration. Mars is the ultimate destination.
Tim Post of MPR contributed to this report.