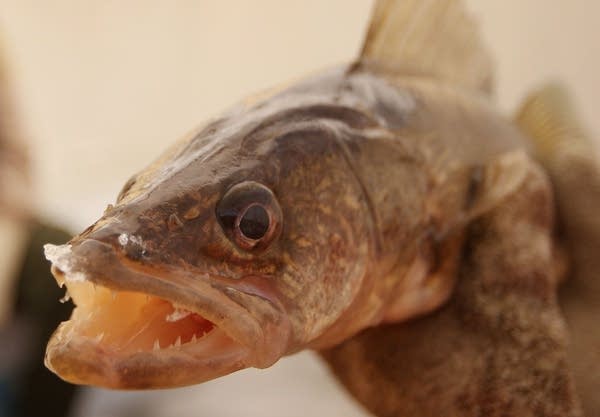 A three-year investigation will result in charges against nearly two dozen people who allegedly sold or purchased walleye illegally in northern Minnesota, according to the Minnesota Department of Natural Resources.
The charges from the DNR's Operation Squarehook come on the heels of similar federal indictments filed against 10 other people last week.
Twenty-one people in six counties across north central and northwestern Minnesota will face state charges, and more are expected to face charges in tribal court on the Red Lake and Leech Lake Indian reservations.
The charges involve illegal purchases and sales of walleye taken from some of Minnesota's most popular fishing lakes, according to DNR Commissioner Tom Landwehr, including Cass, Leech, Red and Winnibigoshish lakes located on the two reservations.
"It hurts all of the legal anglers and netters in the state by taking the resource away from them," said Landwehr. "People ought not tolerate that sort of culture of acceptability ... and if you engage in this type of illegal activity, at some point we will catch you."
DNR officers documented the suspects buying and selling tens of thousands of walleye, at prices much lower than what they typically fetched at the supermarket.
The DNR said these walleye sold for $1.50 to $3 per pound, compared with $11 to $17 for legal walleyes, which typically come from Canada.
"Until people stop buying illegal fish, the suppliers will continue to catch and sell them."

Jim Konrad, DNR
Jim Konrad, director of the DNR's enforcement division, alleges that some of the suspects also threw away hundreds of northern pike and other fish, because they weren't as highly prized as walleye.
Despite the arrests, Konrad said buying and selling walleye on the black market will likely continue.
"Certainly, we didn't catch everyone that's involved in purchasing or selling fish," he said. "We did as much as we could, but certainly we believe that there's a lot more of that activity going on out there."
Investigators found no evidence that illegal walleye were sold to restaurants or taverns, Konrad said. Instead, they often sold their fish informally at bars and through local contacts.
"The investigation revealed widespread acceptance of illegal purchases of fish as a cultural norm," said Konrad. "With investigations like this, that target the purchaser as well as the supplier, we hope to change this culture. Until people stop buying illegal fish, the suppliers will continue to catch and sell them."
In addition to the new charges against 21 non-tribal members, 10 tribal members were indicted by federal authorities last week. Red Lake and Leech Lake authorities say they'll pursue charges against additional tribal members in tribal court.
This is Minnesota's largest investigation of black market fish sales since the early 1990s, when 45 Minnesotans were charged with illegally selling fish from the Red Lake and Leech Lake reservations.
It was that black market activity and over-harvesting that lead to the collapse of the walleye population on Upper and Lower Red Lakes. The walleye have since recovered, thanks to state and tribal restocking efforts.
Since the walleye recovery, most Red Lake tribal members have been very protective of their walleye resource, according to Tribal Chairman Floyd "Buck" Jourdain. But he added, there have always been those who try to make money off of selling the fish illegally.
"There was a concern that with the resurgence of the walleye that at some point there would also be a resurgence in the black market," said Jourdain. "That's something that we here at Red Lake feel is a grave injustice to all band members... When people go out and commit these kinds of crimes against the Red Lake people, then we're glad that they're being held to account."
Anglers off the reservation say they're also pleased with the investigation.
Matt Breuer, who runs a fishing guide service in the Bemidji area, said he's OK with tribes using gill nets on reservation lakes, as long as people follows the rules that protect the fish.
"There was always rumors that they were being sold illegally, so I've heard whispers of it and I was hoping something would come of it," said Breuer. "And now you see the announcements from the DNR this week. It really made me -- and I know a lot of other people -- feel good that they were sticking with it and something was being done about it. I'm happy to see that those involved were busted."
Charges have not yet been filed against all of the 21 people, who face up to 35 misdemeanor and six gross misdemeanor charges in state court. Konrad said he thought most were purchasers rather than sellers.
Misdemeanors are punishable by fines up to $1,000 and/or up to 90 days in jail, while gross misdemeanors carry fines up to $3,000 and/or up to a year in jail. Those cases will be handled by local prosecutors in Clearwater, Polk, Itasca, Cass, Pennington and Beltrami counties.
Leech Lake's tribal game and fish code, which applies only to members and only on the reservation, specifies a maximum fine of $500 and a one-year loss of fishing and hunting privileges. The federal felony charges filed last week involved illegal takings or sales of fish on the Red Lake and Leech Lake reservations. Those counts carry maximum penalties of up to five years in prison.
(The Associated Press contributed to this report)