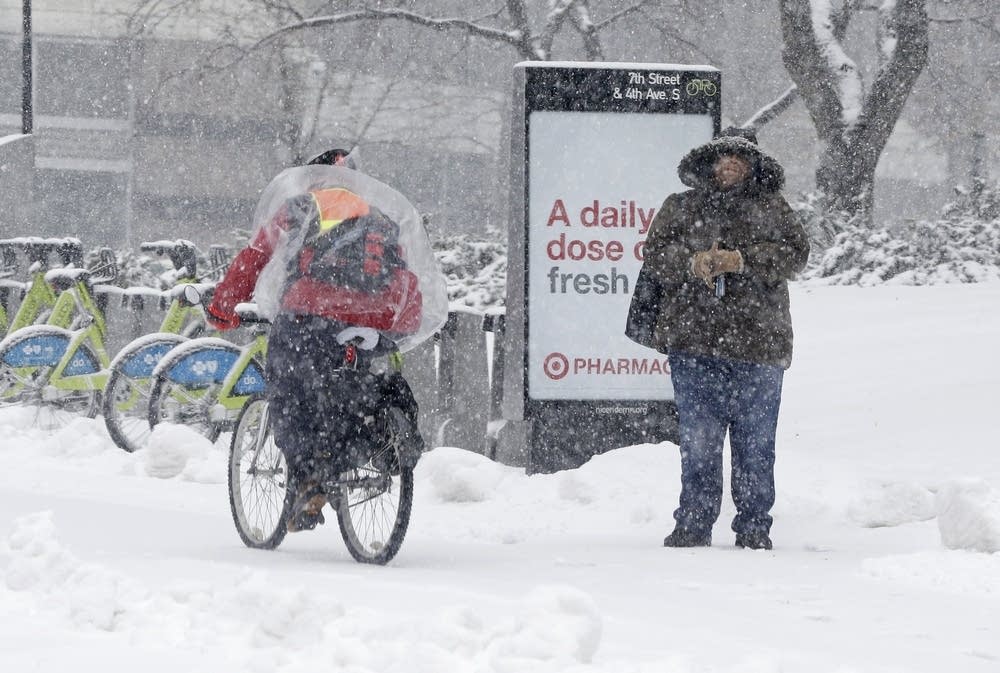 Nearly two feet of snow has fallen in the last 24 hours in northern Minnesota in a storm that has disrupted travel and closed schools.
The Minnesota Department of Transportation said road conditions had improved in the southern half of the state by mid-morning, but driving conditions were still listed as difficult in western Minnesota.
"We've had crews out all night, full crews in the metro area. And across Minnesota crews will be out moving snow, putting down sand and salt, but its just going to be a challenge. We got a lot of snow," said MnDOT spokesman Kevin Gutknecht.
Observers reported 22 inches of snow near Two Harbors, more than a foot in St. Cloud, 7 inches near Fort Ripley, and nearly 6 inches in St. Louis Park.
Nearly 18 inches of snow fell in Duluth, making it the snowiest April ever in the city with 40 inches of snow. It's also been the snowiest winter on record.
MORE WEATHER COVERAGE
• Updraft blog: Latest weather forecasts and analysis
• Table: Snowfall tables across Minn.
• Twin Cities traffic conditions

Minnesota Power and Lake County Power reported that several hundred customers were without power Thursday morning — an improvement from the 6,000 who lost power overnight.
Temperatures statewide were expected to drop Friday night, possibly breaking more records. National Weather Service forecaster Deckan Cannon said Duluth could break the record of 14 degrees overnight.
"We're supposed to be up somewhere around 50 for a daytime high in Duluth. And we're not even — it's criminal behavior again — we're not even going to be out of the 30s today," Cannon said.
Another winter storm is forecast for the Duluth area this weekend. The record-setting winter in northeastern Minnesota was raising flood concerns.
Steve Gohde with the National Weather Service in Duluth said there's a greater than 50 percent chance for minor flooding along the Mississippi River near Aitkin. He said there's also a chance for what he calls "nuisance" flooding across the region, especially if there's a rapid warm-up or a rain storm before the snow melts.
"If we get a rain on snow event and rapidly lose our snowpack with the addition of warm weather, we're going to have some localized issues," Gohde said.
The snowpack in Duluth is over 30 inches. Gohde says a gradual warm up is forecast for the next couple weeks, which would help minimize potential flooding.
MPR Meteorologist Craig Edwards said overall, the snow has moved east to Wisconsin and Michigan, so most of the accumulation is over. But winds will be brisk throughout the day, with gusts to 30 mph. In Grand Marais, 50 mph wind gusts were reported.
But the snow won't be here for long, Edwards said, especially in the Twin Cities.
"I think we're going to start some melting today," he said, adding that temperatures will be in the upper 30s today and near 40 on Saturday. Rain was in the forecast for Sunday.
In the Twin Cities, a few crashes were reported, but interstate highways were mostly wet. The Thursday afternoon commute was a challenge for many Twin Cities motorists. The State Patrol reported one fatal crash on snowy I-94 Thursday afternoon in Washington County. Sixteen-year-old Jonathon Pohlen of Houlton, Wis., was killed when his car crossed the median and hit a truck's trailer.
Metro Transit buses were mostly on time Friday morning, and no delays were reported on Hiawatha Light Rail and Northstar Commuter trains.
At Minneapolis-St. Paul International Airport, spokesman Pat Hogan said air travel was running running smoothly.
"We have fewer than two dozen cancellations, there are some delays here, too, pretty much all in the Upper Midwest," he said. "But locally, both of our parallel runways are open, we're not getting much snow, so we're in good shape for local operations."
Here are snow totals from around the state, according to data from the Iowa State University Mesonet.
| Report Time | Location | County | ST | Event Type | Mag. | Source |
| --- | --- | --- | --- | --- | --- | --- |
| Apr 19 2013 05:15:00 | 5 N Two Harbors | Lake | MN | SNOW | 22 | trained spotter |
| Apr 19 2013 09:55:00 | Lake Nichols | St. Louis | MN | SNOW | 20 | public |
| Apr 19 2013 08:55:00 | Holyoke | Carlton | MN | SNOW | 18.2 | trained spotter |
| Apr 19 2013 09:52:00 | Alborn | St. Louis | MN | SNOW | 17.0 | public |
| Apr 19 2013 06:01:00 | Lake Nichols | St. Louis | MN | SNOW | 16.5 | public |
| Apr 19 2013 07:03:00 | 1 SW Hinckley | Pine | MN | SNOW | 13.5 | public |
| Apr 19 2013 01:58:00 | 4 SW Cotton | St. Louis | MN | SNOW | 13.0 | trained spotter |
| Apr 19 2013 02:45:00 | St. Cloud | Sherburne | MN | SNOW | 12.3 | public |
| Apr 19 2013 03:52:00 | Sartell | Stearns | MN | SNOW | 12.0 | trained spotter |
| Apr 19 2013 03:47:00 | Monticello | Wright | MN | SNOW | 11.8 | trained spotter |
| Apr 19 2013 03:59:00 | 5 NW Duluth | St. Louis | MN | SNOW | 11.2 | official nws obs |
| Apr 19 2013 09:59:00 | Watertown | Carver | MN | SNOW | 10.8 | trained spotter |
| Apr 19 2013 02:32:00 | Moose Lake | Carlton | MN | SNOW | 9.0 | trained spotter |
| Apr 19 2013 09:24:00 | Forest Lake | Washington | MN | SNOW | 9.0 | co-op observer |
| Apr 19 2013 00:57:00 | Fort Ripley | Crow Wing | MN | SNOW | 7.0 | trained spotter |
| Apr 19 2013 02:44:00 | Mankato | Blue Earth | MN | SNOW | 6.0 | trained spotter |
| Apr 19 2013 01:20:00 | St. Louis Park | Hennepin | MN | SNOW | 5.6 | trained spotter |
| Apr 19 2013 02:34:00 | Edina | Hennepin | MN | SNOW | 5.4 | trained spotter |
| Apr 18 2013 23:48:00 | Duluth Heights | St. Louis | MN | SNOW | 4.7 | trained spotter |
| Apr 19 2013 00:42:00 | Eden Prairie | Hennepin | MN | SNOW | 4.0 | trained spotter |
| Apr 19 2013 00:00:00 | 5 SSE Minneapolis | Hennepin | MN | SNOW | 2.9 | official nws obs |
| Apr 19 2013 01:10:00 | St. Paul | Ramsey | MN | SNOW | 2.5 | trained spotter |
(MPR reporter Elizabeth Dunbar contributed to this report.)